Alternative Approaches to Radiated Susceptibility Testing at Unit Level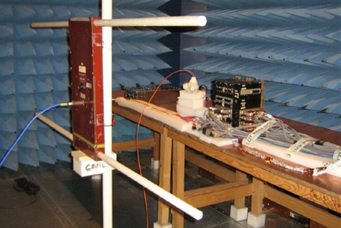 Research Area:

Research Lines:


Responsible:

Participants:

Project abstract
In order to guarantee Electromagnetic Compatibility (EMC) of spacecraft, each electronic unit/subsystem must pass a radiated susceptibility (RS) test to detect possible degradation of performance. The conventional testing procedure at unit level is based on the illumination of the unit under test with the electromagnetic field radiated by a suitable antenna, in an anechoic chamber. Since this method is time consuming, does not guarantee good repeatability and reproducibility, and is quite expensive, the development of alternative approaches is of great interest for the community working on aerospace EMC. To this end, this Research Project is aimed at the theoretical investigation, development, and experimental assessment of new unit-level test setups based on the injection of conducted disturbances (through suitable coupling devices), to be used in the frequency range 100 kHz – 500 MHz (with possible goal 1 GHz) to substitute conventional RS tests based on direct illumination. The EMC Group at Politecnico di Milano and
Airbus Defence and Space
(Toulouse, France) are involved in this Project, which is supported by the
European Space Agency
(ESA).

Project results
The main benefits associated to the development of alternative approaches to radiated susceptibility testing will be the reduction of costs and the improvement of test effectiveness.
In particular, this is made possible by:
a) simplified test setups involving standard instrumentation and avoiding the use of anechoic chambers,
b) accurately defined and controlled immunity test levels;
c) reduced number of testing iterations to achieve optimal product design.
The Project is currently ongoing. In particular, the work-package currently addressed deals with the theoretical modeling and experimental characterization of suitably selected coupling devices for conducted immunity testing.