WS-Diamond - Web-Serving Diagnosability, Monitoring & Diagnosis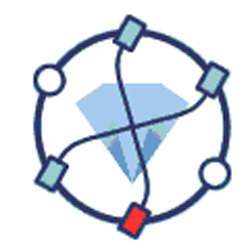 Research Area:

Research Lines:


Responsible:

EU Research FP6
DEIB Role: Partner
Start date: 2005-09-14
Length: 30 months
Project abstract
Self-healing software is one of the challenges for IST research. This project aims to take a step in this direction by developing a framework for self-healing Web Services.
The project will produce:
an operational framework for self-healing service execution of conversationally complex Web Services, where monitoring, detection and diagnosis of anomalous situations, due to functional or non-functional errors (e.g., Quality of Service), is carried on and repair/reconfiguration is performed, thus guaranteeing reliability and availability of Web Services;
a methodology and tools for service design that guarantee effective and efficient diagnosability/repairability during execution;
demonstration of these results on real applications.
The project started in September 2005 and it will end in February 2008. A general architecture for diagnosis and management of web services and processes to provide self-healing behaviour has been defined. A methodology and tools to provide self-healing functionality for improving data quality have been defined and a prototype for managing self-healing processes (Self-healing BPEL - SH-BPEL) has been realized. A simulator for fault injecton for testing composed cooperating web services has been realized.

Project results
F. Daniel, B. Pernici, "Insights into Web Service Orchestration and Choreography", International Journal of E-Business Research, Volume 2, Number 1, Idea Group Publishing, January-March 2006.
C. Cappiello, C. Francalanci, B. Pernici, "A self-monitoring system to satisfy data quality requirements". Proceedings of the International Conference on Ontologies, DataBases, and Applications of Semantics (ODBASE 2005), pp. 1535-1552, November 2005.
C. Cappiello, P. Ficiaro, B. Pernici, "HIQM: a Methodology for Information Quality Monitoring, Measurement, and Improvement", QOIS ER Workshop, 2006.
Stefano Modafferi, Enrico Mussi, Barbara Pernici, SH-BPEL - A Self-Healing plug-in for Ws-BPEL engines, Middleware for Service Oriented Computing (MW4SOC) Workshop of the 7th International Middleware Conference 2006, November, 2006, Melbourne, Australia.
Mariagrazia Fugini, Enrico Mussi, "Recovery of Faulty Web Applications through Service Discovery", SMR-VLDB Workshop, Matchmaking and Approximate Semantic-based Retrieval: Issues and Perspectives, 32nd International Conference on Very Large Databases, Seoul, Korea, September 12-15, 2006, pp 67-80.
C. Cappiello, B. Pernici, A Methodology for Information Quality Management in Self-healing Web Services, International Conference on Information Quality, Boston, Nov. 2006.
M.G. Fugini, P. Plebani, and F. Ramoni, "A user driven policy selection model", In Proceedings of the Fourth International Conference on Service Oriented Computing (ICSOC2006), Short Paper, pp. 427-433, Chicago, IL, USA, Dicembre 2006.
M. Comuzzi, B. Pernici, "A Model and an Architecture for Flexible Web Service QoS Negotiation", presentato per la pubblicazione.