Oncological pathology and long survivals: quantitative evaluation of limbs affected by lymphedema and their recovery after specific rehabilitative treatments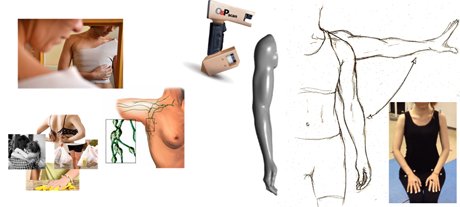 Research Area:

Research Lines:


Responsible:

Participants:

Collaboration with Academic Institutions and Research Centres
-
Start date: 2013-10-01
Length: 24 months
Project abstract
Every year approximately 40,000 women are affected by breast cancer (20-25% of all female cancers). The treatments aimed to the removal of the tumoral mass lead to the development of lymphedema (important increase of the volume upper limb) that represents disabling element both from a physical and social point of view. The measurement of the limb with lymphedema and consequently the assessment of the degree of impairment are currently assigned in clinical routine to manual measurements, with a normal centimeter; this measure is subjective, not adequate to highlight all the morphological aspects of the limb, is not enough sensitive to identify changes induced by treatment, and also does not provide any information regarding the functional limitations associated with the increase in limb volume. Thus, the goal of the project, in collaboration with Istituto Nazionale dei Tumori of Milano, has been to provide clinical tools and methods of measurement of the limb affected by lymphedema and of its functional limitation during the execution of movements of everyday life.

Project results
Project's outcomes:
Definition and development of experimental set-up for the volumetric/morphological assessment and for the quantification of functional limitation of the upper limb with lymphedema
Improvement in the identification of the rehabilitative treatments for the reduction of upper limb lymphedema
Scientific publications:
Cau N, Galli M, Cimolin V, et al. Breast cancer related lymphedema: Literature review on techniques for volume assessment, European Journal of Lymphology (in review)
Cau N, Galli M, Cimolin V, et al. Comparative study between circumferential method and laser scanner 3D method for the evaluation of arm volume in healthy subjects, Journal of Vascular Surgery (in press)
State of the project
Data analysis end and preparation of scientific publications.