DISFIDA: students at the services of NON-PROFIT and DISABILITY
June 11th, 2019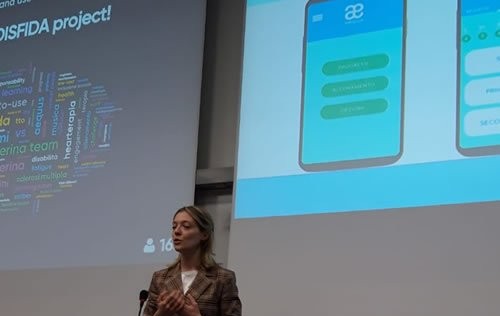 Abstract
DISFIDA is one of the People@DEIB programmes, part of the Politecnico di Milano's initiative Passion in Action, organized in the context of extracurricular activities of innovative teaching. The programme was coordinated by Prof. Alessandra Pedrocchi, with Prof. Gianfranco Fiore and Prof. Maria Gabriella Signorini, of the Dipartimento di Elettronica, Informazione e Bioingegneria.
During the programme, teams of volunteer students, around 40 students from different degree programs of the University, challenged each other in developing projects to respond to needs presented by some non-profit organizations: the Association I Gigli del Campo, AICCA - the Italian Association of Adult Congenital Heart Diseases and Multiple Sclerosis Centre of the San Camillo-Forlanini Hospital, in collaboration with EUPATI (European Patients' Academy).
During the final event, the results achieved were presented to an audience made up of representatives of the associations, of the industry, of the clinical field and of the University and the following projects were awarded:
ORDER AND PICK APP LILY MARKET, a project proposed and carried out together with the Gigli del Campo Association. Team: BIOTEAM, composed of Ilaria Anita Cintorrino, Claudia Salerni, Maria Chiara Sbarra and Andrea Stanisci
Economical and portable solution for the rehabilitation of patients with Multiple Sclerosis, a project proposed and carried out together with the Centro San Camillo. Team: Aequus, composed by Matteo Bistoni; Manuel Carzaniga, Federica Ferrari and Lorenzo Gualniera
Tecnoarterapia, a project proposed and carried out together with AICCA. Winning team: Pupazzo del cuore, composed by Marta Puricelli, Ilaria Riccio, Antonella Ciamillo, Tiziana Camboni.