Component-ware for Autonomic Situation-aware Communications, and Dynamically Adaptable Services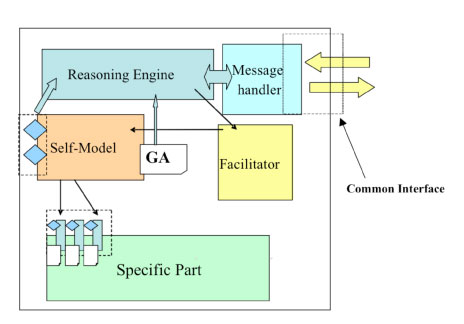 Research Area:

Research Lines:


Responsible:

Participants:

EU Research FP6
DEIB Role: Partner
Start date: 2006-01-01
Length: 36 months
Project abstract
CASCADAS is a three-year integrated project driven by a clear research vision, which is to define a new generation of composite, highly-distributed, pervasive services, with underlying technology, that addresses these configuration and complexity problems.
The overall goal of CASCADAS is identifying, developing, and evaluating architectures and solutions based on a general-purpose component model for autonomic communication services; specifically in such context autonomic service components autonomously achieve self-organization and self-adaptation towards the provision of adaptive and situated communication-intensive services. In other words, the project is driven by the ambition of identifying a fundamental, uniform abstraction for situated and autonomic communication entities, at all levels of granularity.
This abstraction is called an ACE (Autonomic Communication Element), and it represents the cornerstone of the component model, in which the four driving scientific project principles (situation awareness, semantic self-organisation, self-similarity, autonomic component-ware) will properly converge. The projects is in its second year.

Project results
The definition of a new model of distributed components (ACEs), able to autonomously self-organize with each other towards the provisioning of specific user communication services, and able to self-adapt such provisioning to social and network contexts. This definition is supported by a prototype implementation of ACE [1].
The development of algorithms and techniques to achieve dynamic adaptation and enforce given service properties through self-organized component aggregation of ACEs. A prototype implementation of these algorithms as part of an ACE has been realized. [2,3].
The definition of a distributed monitoring platform that allows each ACE to monitor its own behavior and the behavior of its neighbors.
Davide Devescovi, Elisabetta Di Nitto, Raffaela Mirandola, An Infrastructure for Autonomic System Development: the SelfLet Approach, In the proceedings of Automated Software Engineering conference ASE 2007.
Davide Devescovi, Elisabetta Di Nitto, Daniel Dubois, Raffaela Mirandola, Self-Organization Algorithms for Autonomic Systems in the SelfLet Approach, In the proceedings of Autonomics 2007.
Elisabetta Di Nitto, Daniel Dubois, Raffaela Mirandola, Self-Aggregation Algorithms for Autonomic Systems, submitted for conference publication.