ION. A Sequential High Throughput Ion Channel Screening System for Drug Discovery in Neurological and Psychiatric Disorders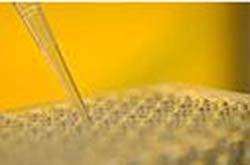 Research Area:

Research Lines:


Responsible:

EU Research FP6
DEIB Role: Partner
Start date: 2004-09-16
Length: 24 months
Project abstract
The project aims to discover new drugs that act on the ionic channel. The ionic channels are present in all the cells and have regulation functions, acting on membrane potential. In the last years it has been assessed that many diseases are tied to dysfunctions of the ionic channel, therefore the ionic channels are studied like target for drugs' activity.
ION is an European research project for the development of an innovative evaluation's system of candidate drugs, acting on a large group of important targets (ion channels) for serious neurological and psychiatric diseases. The partners are a group of SME of the druggist and technological field, and a group of search agencies that must select the cellular target, construct models and validate them alive. The target to standardize and the parameter to fortell IC50, the concentration that inhibits 50% of the activity, have been chosen. The management software system of chemical, biological and experimental data has been developed. Models for IC50 are under construction.

Project results
The innovative contribution is the release of an improved version of machine for "ion screening" (staring from the Multi Channel Systems' product), that will be called IONEP. The new machine will comprise a group of intelligent software agents to analyze the data and to plan the experiments.
The software result of our work will be "poliGMDH", a system for neural networks' construction and for models' validation. The product will be issued under GNU licence and will be included in IONEP.