Development of Environmental Modules for Evaluation of Toxicity of pesticides Residues in Agriculture (DEMETRA) – EU Quality of Life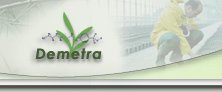 Research Area:

Research Lines:


Responsible:

EU Research FP6
DEIB Role: Partner
Start date: 2003-01-01
Length: 42 months
Project abstract
There is a growing necessity to analyze the effects of the pesticides granted in the environment for a sustainable agriculture and for politics towards the emergent countries. Beyond the doubts raised by the environmental and medical organizations about the pesticides, the problem of the metabolites remains unexplored. It's not possible to study in detail these several families of compounds to obtain LD50 (Lethal Dose 50 percent) with traditional experiments on animals. Mathematical methods are therefore proposed for the analysis of available data. The project's partners operate in the scientific and technological field and they include one of the main world-wide producers of pesticides. The project is concluded and the outcomes have been presented at QSAR2006 and in the final Workshop in Como, Villa Olmo, June 2006.

Project results
Portals' construction for the on-line use of predictive models, realized by the project on 5 aquatic and terrestrial species and on groups of different chemical classes.