Development of active control algorithms for vibration reduction on turbomolecular vacuum pumps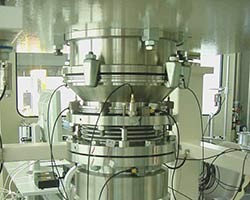 Research Area:

Research Lines:


Responsible:

Participants:

Collaboration with industry
-
Start date: 2005-01-01
Length: 24 months
Project abstract
Turbomolecular vacuum pumps are devices similar to axial compressors, with rotors operating at very high speeds, that are used in advanced technology applications. The inevitable residual asymmetries of the rotor and geometrical errors in the pump cause vibrations that may jeopardize the vacuum system functioning and shorten the pump life. The project studied and developed feedforward and feedback algorithms for the active control of vibrations in these particular devices, and it realized a laboratory prototype of the control system using piezoelectric actuators. The research was in collaboration with Varian Vacuum Technologies. Several algorithms have been tested in simulation, and the engineering of the control system was studied. The project is closed.

Project results
Some results of the project are documented in two papers written by Alberto Leva, Luigi Piroddi and Fausto Casaro. One of these papers was presented at the IEEE Conference on Control Applications (CCA), held on October 4-6, 2006 in Munich (Germany); and the other one was presented at the 45th IEEE Conference on Decision and Control, held on December 13-15, 2006 in San Diego (USA), respectively. Another paper was presented at the European Control Conference, which was held on July 2-5, 2007 in Kos (Greece). Part of the results of the research activity have been patented by Varian S.p.A. in the European Community (patent no. 03425741.0) and the United States (Docket no. 03-37 US).