Wideband Wireless LAN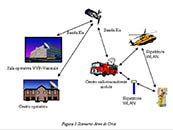 Research Area:

Research Lines:


Responsible:

Participants:

Project abstract
The WWLAN project aims at realizing an heterogeneous radio network that integrates wireless local area networks (WLAN) with satellite networks. The integration of the two technologies, so different in characteristics and purposes, makes it possible to overcome the intrinsic limitations of both, with the double result of increasing the number services offered to the user and to enhance their quality and accessibility. The project is ended.

Project results
In the
WWLAN
projects three application scenarios have been identified and studies. In these scenarios the potential offered by broadband multisegment networks are effectively used:
railway scenario: the broadband multisegment network (satellite + WLAN) is used to offer seamless and highly satisfactory multimedia services (Internet, Digital TV,…) on ETR trains and in railway stations;
"crisis area" scenario: the broadband multisegment network is used to offer effective support to communications among the firefighter's fixed stations, the vehicles and the officers involved in the rescue operations;
"urban and industrial area" scenario: the broadband multisegment network is used as a backbone for the interconnection of wireless local area networks and for the connection of these to the internet. The scenario consists in the realization, in the urban/industrial area involved in the service, of a cellular coverage: each cell is served by a radiobase directly connected to a satellite gateway by means of a fixed line or, indirectly, by means of a point-to-point, possible multi-hop, radio link.
For each of the above scenarios, the most suitable architectures have been analyzed, and output specifications have been given for the field deployment of the studied solutions.