MEPOS - Optical measurement of position and size of wood panels for intelligent automation of sanding machines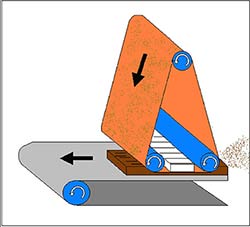 Research Area:

Research Lines:


Responsible:

Research
-
Start date: 2004-09-01
-
Project abstract
The project tackles problems for automation of wood-sanding machine through the development of a robotic agency based on 3 interacting agents:
an optical sensing system to detect wood panel shape and position;
an intelligent control system;
driving an improved array of pneumatic actuators.
In order to control the sanding process and to optimize panel surface finish, it is necessary that panel dimensions, shape and position are measured on line, while the panel is moving on the transport belt and entering the machine and that actuators are controlled in force in order to apply the required force distribution on the panel surface, so that each part of the panel is machined at the desired pressure level. This Co-Operative research project involves companies, which operate in different business areas, and other Universities and Research Institutions. The project is ended. Some demonstrators have been implemented and successfully tested on the operating machine.

Project results
During the first year the MEPOS project has reached the following results:
optical sensor for panel position and shape;
development of improved pneumatic actuator;
development of intelligent control;
development of machine architecture;
integration of all elements.
Up to now, the partners have agreed only on one publishable result with detailed technical content.
This is a paper by ACV; it will contain a description of the measurement system and the measurement algorithms has been accepted for presentation at the 2006 IS&T/SPIE International Symposium on Electronic Imaging.