enCOMPASS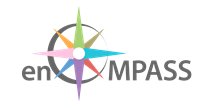 Research Area:

Research Lines:


Horizon 2020
DEIB Role: Coordinator
Start date: 2016-11-01
Length: 36 months
Project abstract
Achieving the European environmental objectives for 2020 requires not only technological progress, but also a major change in energy consumption behaviour. The enCOMPASS project will implement and validate an integrated socio-technical approach to behavioural change for energy saving, by developing innovative user-friendly digital tools to make energy consumption data available and understandable for different stakeholders (residents, visitors, public actors, building managers, utilities and ICT-providers) so to empower them to achieve energy savings and manage their needs in energy efficient, cost-effective and comfortable ways. To this end, enCOMPASS will integrate visualisation of energy data collected from smart sensors, user-generated information and context-aware collaborative recommendations for energy saving, intelligent control and adaptive gamified incentives.
DEIB researchers will contribute to the development of the platform front-end interface for energy consumption visualization and to the creation of user engagement tools and incentives based on the use of gamification methodologies.

Project results
The enCOMPASS system is realized as an open platform combining 1) context-dependent energy usage information from in-home sensors (smart meters and smart home appliances for heat and electricity), 2) user-generated information (automatic and manual activity tracking), 3) adaptive gamified energy visualisation and 4) intelligent controls and automation. The platform is developed to achieve sustainable changes in user energy consumption patterns without compromising comfort levels. The enCOMPASS platform aimed at being the heart of a new business ecosystem that enables players in the energy domain to develop their own white-label solutions on top of the platform, or to integrate and use individual services or platform modules.
Publications

CORDIS
will publish an article about the results of your project
enCOMPASS
. The article will be included in the upcoming Results Pack on
Energy Efficiency
, based on a request from DG EASME
.