Energy-control in electric and hybrid vehicles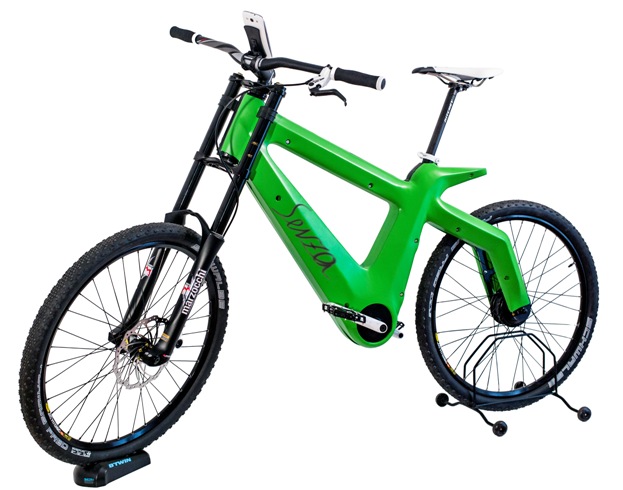 Research Area:

Research Lines:


Research
-
Start date: 2009-11-30
Length: 24 months
Project abstract
The general scope of the research project is to develop advanced systems for the automatic control of energy flows in electric and hybrid vehicles. The project has mostly focused on small and light vehicles, like pedal-assisted vehicles (e-bikes), e-motorcycles and small e-cars. The main control subsystems developed as part of this project are:
Control of electric motors
Management and control of li-ion battery-packs
Control of range-extenders
Management and coordination of different power-sources in hybrid vehicles
Drive-style estimation
Clod-loop (active control) of range in electric vehicles
Synergy control of human and electric power
All the research projects have been developed along four main streams of activities:
System modeling (control-oriented dynamic modeling) and parameter identification
Software-sensing (indirect estimation of vehicle parameters difficult to be measured, like battery state-of-charge, battery state-of-health, road-slope, pedal-torque, etc.)
Actuator control (electric-motor/generator control, range-extender control, etc.)
Energy-management control-algorithm design (design, implementation, experimental validation), with control objectives like: range control; energy-consumption control; pollution control; system-cost optimization, etc.
These projects have originated innovative industrial products; most of the main innovative systems have been patented.

Project results
Patents:
1. MI2014A001985 (2014). Sistema per il controllo del moto di un veicolo a propulsione umana di tipo impulsivo. Politecnico di Milano, ZEHUS srl. (M. Corno, S. M. Savaresi, F. Busnelli, P. Lisanti, G. Alli).
Filed on 18/11/2014.
2. VI2014A000187 (2014). Un metodo di predizione della presenza di un veicolo, appartenente ad una flotta di veicoli utilizzabili per un servizio di affitto di tipo free-floating degli stessi, in un intorno di un punto fissato in un istante temporale futuro. Politecnico di Milano (S.M. Savaresi, S. Formentin, A. G. Bianchessi)
Filed on 14/07/2014.
3. MI2014A001024 (2014). Sistema di segnalazione per ottimizzare i consumi di un veicolo nella percorrenza di strade semaforizzate. Politecnico di Milano (A. Bisoffi, M. Corno, C. Ongini, S. M. Savaresi).
Filed on 4/6/2014.
4. PCT/IB2012/050492 - WO 2012/104810 (2012). Electrically pedal-assisted bicycle. SEMS S.r.l., Politecnico di Milano, FNM S.p.A. (S. M. Savaresi, G. Alli, C. Spelta, P. Spagnol, M. Vanzulli, G. Biesuz).
Filed on 2/2/2012; published on 9/8/2012.
5. MI2012A000260 (2012). Bicicletta a pedalata assistita e metodo per il controllo di una bicicletta a pedalata assistita. Politecnico di Milano, Università degli Studi di Bergamo (F. Previdi, S.M Savaresi, M. Corno, M. Tanelli, G. Alli, P. Lisanti, P. Spagnol, I. Boniolo, C. Spelta).
Filed on 22/02/2012.
6. MI2011A000393 (2011). "Metodo e sistema elettronico per la gestione automatica dell'autonomia energetica di un veicolo, particolarmente in veicoli elettrici". Piaggio & C. S.P.A. e Politecnico di Milano (S.M. Savaresi, A. Dardanelli, M. Tanelli, B. Picasso, O. Di Tanna, M. Santucci).
Filed on 11/03/2011.
7. MI2011A000150. Bicicletta a pedalata assistita elettricamente. Politecnico di Milano, SEMS srl, FNM spa (S. M. Savaresi, G. Alli, C. Spelta, P. Spagnol, M. Vanzulli, G. Biesuz).
Filed on 3/2/2011.
8. MI2010A002408 (2010). Sistema e metodo di assistenza alla guida in tempo reale. Piaggio & C. S.P.A. e Politecnico di Milano (M. D. Santucci, O. Di Tanna, S. M. Savaresi, A. Corti, V. Manzoni).
Filed on 27/12/2010.


Main publications and Results:
1. P. Giani, M. Corno, M. Tanelli, S.M. Savaresi (2015). Human-in-the-Loop Bicycle Control via Active Heart Rate Regulation. IEEE Transactions on Control Systems Technology. Vol: 23, Issue 3 pp 1029- 1040
2. M. Corno, N. Bhatt, S.M. Savaresi, M. Verhaegen (2015). Electrochemical Model-Based State of Charge Estimation for Li-Ion Cells. IEEE Transactions on Control Systems Technology, Vol.23, n.1, pp.117-127.
3. A. G. Bianchessi, C. Ongini, S. Rotondi, M. Tanelli, M. Rossi, G. Cugola, S. M. Savaresi (2013). A Flexible Architecture for the Integrated Management of Green Transportation Systems. IEEE Embedded Systems Letters, Vol.5, n.3, pp.30-33.
4. P. Spagnol, M. Corno, S. M. Savaresi (2013) Pedaling Torque Reconstruction for Half Pedaling Sensor. Proceedings of the 2013 European Control Conference. Zurich, Swizerland. July 17-19, 2013. pp 275- 280.
5. P. Spagnol, M. Corno, R. Mura and S. M. Savaresi (2013) Self-sustaining Strategy for a Hybrid Electric Bike. Proceedings of the 2013 IEEE American Control Conference. Washington DC. June 17-19, 2013. pp 6445 - 6450.
6. M. Corno, P. Spagnol, S.M. Savaresi (2014). Road Slope Estimation in Bicycles without Torque Measurements. 19th IFAC World Congress, Cape Town, South Africa, pp.6295-6300 (ISBN: 978-3-902823-62-5).
7. P. Spagnol, G. Alli, P. Lisanti, F. Todeschini, C. Spelta, S.M. Savaresi (2012). A full hybrid electric bike: how to increase human efficiency. American Control Conference, Montréal, Canada, pp.2761-2766 (ISBN: 9781457710957)
8. M. Corno, Bhatt N. and Verhaegen M. (2012) Efficient Control Oriented Modeling of Lithium Ion Cells. Proceedings of the 2012 American Control Conference. Montreal, Canda, June 27 – June 29 pp. 4733-4738
9. A. Corti, V. Manzoni, S. M. Savaresi (2012). Simulation of the impact of traffic lights placement on vehicle's energy consumption and CO2 emissions. 15th International IEEE Conference on Intelligent Transportation Systems, Anchorage, Alaska, USA, pp.620-625 (ISBN: 9781467330640)
10. A. Corti, V. Manzoni, S. M. Savaresi (2012). Vehicle's energy estimation using low frequency speed signal. 15th International IEEE Conference on Intelligent Transportation Systems, Anchorage, Alaska, USA, pp.626-631 (ISBN: 9781467330640)