SLA@SOI – Empowering the Service Economy with SLA-aware Infrastructures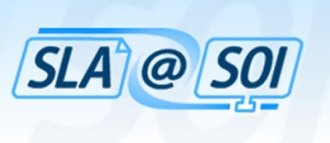 Research Area:

Research Lines:


EU Research FP7
DEIB Role: Partner
Start date: 2008-06-01
Length: 36 months
Project abstract
The research project
SLA@SOI
will provide a major milestone for the further evolution towards a service-oriented economy. SLA@SOI will provide 3 major benefits to the provisioning of services:
Predictability & Dependability: The quality characteristics of service can be predicted and enforced at run-time.
Transparent SLA management: Service level agreements (SLAs) defining the exact conditions under which services are provided/consumed can be transparently managed across the whole business and IT stack.
Automation: The whole process of negotiating SLAs and provisioning, delivery and monitoring of services will be automated allowing for highly dynamic and scalable service consumption.
The technical approach of SLA@SOI is to define a holistic view for the management of service level agreements (SLAs) and to implement an SLA management framework that can be easily integrated into a service-oriented infrastructure (SOI). The consortium of SLA@SOI comprises world-class players in academia and industry representing all the relevant industrial and technical perspectives required for materializing the vision of this ambitious project. The DEI will help SLA@SOI with its experience on service-oriented system engineering, on the negotiation and supervision of SLAs, and on the definition of prediction models.

Project results
SLA@SOI will provide its results in 2 complementing ways. First, an open-source SLA management framework will help realize the benefits of predictability, transparency and automation in service-oriented infrastructures. Second, the in-depth guidance of the industrial stake-holders will help set and explain the best practices on how to transform service-oriented businesses into SLA-driven ones. All relevant project results will be described in at least one official deliverable.