LOOPUS won the award for the best patent of italian uniersities
July 11th, 2019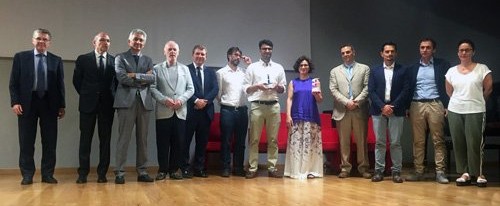 Abstract
The Loopus project of Prof. Daniele Ielmini, winner of the Disruptive Innovation price at last year's S2P edition, scooped the Intellectual Property Award for the best patent of Italian universities, in the "ICT, Artificial Intelligence, IoT, Big Data, Logistics and Constructions" category.
LOOPUS is a memory circuit for computational calculation capable of speeding up calculation performance by more than three orders of magnitude, drastically reducing energy consumption.
The project is a major innovation in processing systems, as it consists in a scalable, zero-latency, low-energy consumption solution for machine learning and the analysis of big data via analogue memory accelerators. It consists in particular in analogue accelerators for algebraic calculation, which enable machine learning and the analysis of big data in just one step.
The EUR 10.000 prize for the technological development of the project was funded by the Italian Patents and Trademarks Office (UIBM) and handed to Giacomo Pedretti, a PhD student at the Dipartimento di Elettronica, Informazione e Bioingegneria, by Marco Bellezza and Francesco Morgia, from the Ministry of Economic Development.
The awards ceremony took place at Politecnico di Torino during the first edition of the Italian Tech Week.