The music experience: is NFT the new revolution in the music industry?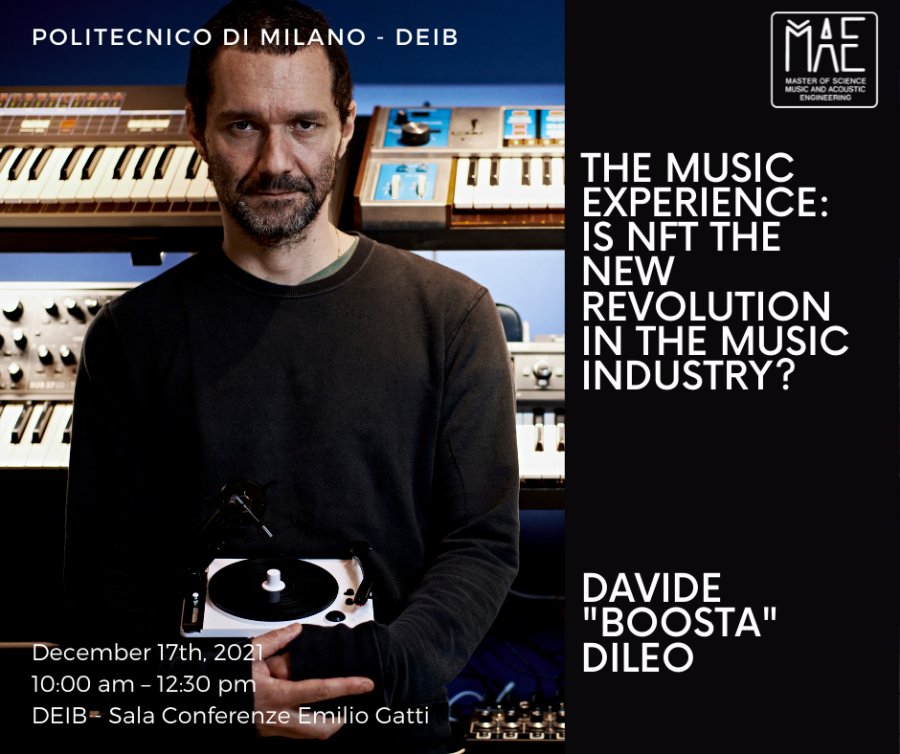 Abstract
On
December 17th, 2021
from 10.00 am to 12.30 pm
Davide "Boosta" Dileo
, Musician, DJ, composer, author and co-founder of Subsonica, will hold a musical seminar titled "
The music experience: is NFT the new revolution in the music industry?
".
What is music for? What is the value of music today?
In the era of streaming platforms, the music has been emptied of the value of being unique and personal. NFT, a non-fungible token, promises to re-establish the concept of uniqueness in a world of perfectly reproducible, interchangeable digital art objects. Through a musical journey, which starts from Sound Design and music composition, the seminar will focus on the role of music today with particular emphasis on the revolution that NFT technology promises to bring to the world of music industry and music consumption.
Davide "Boosta" Dileo is among the first Italian artists who embrace the new frontier of NFT. In the lecture, he will bring us on this journey with a particular focus on the Music Is Art project made in collaboration with the Croatian artist Danijel Žeželj and the startup Genuino.

Moderator of the seminar will be Francesco Bruschi, Head at Blockchain & Distributed Ledger Observatory at Politecnico di Milano.

The lecture will be given in Italian.
Short Bio
Davide Boosta Dileo
, from Turin (Italy), born in 1974, is a multifaceted artist with a career of more than twenty years. He is a musician, DJ, composer, author and producer, but also a radio-television host and writer. Keyboardist and co-founder of Subsonica, a band with eight studio albums - eight platinum records, with more than 500,000 copies sold - four live CDs and an endless live music career. As author and composer, he has created, among others, songs for Mina such as: "Non ti voglio più", part of the album "Facile" and "La Clessidra" contained in "Caramella". Boosta is considered one of the best Italian DJs, inserted in the most important electronic music scenes and with experience at the best club consoles, from Ibiza to Zurich. Composer of soundtracks for cinema and TV series, including "1992" and "1993" produced by Sky. On June 21, 2021 Davide_Dileo_cabinet was inaugurated in Turin, a micro exhibition gallery where music is declined in unique pieces and compositions only for collectors.
The event will take place in presence and live streaming on Webex at link


Please complete the form at the following link to register to attend the lecture: https://forms.gle/qDXKERCFxveTr5R98

Please, note: COVID-19 Green Pass is needed to attend the event in presence.