EIT Digital Industrial Doctorate meetup: Include and succeed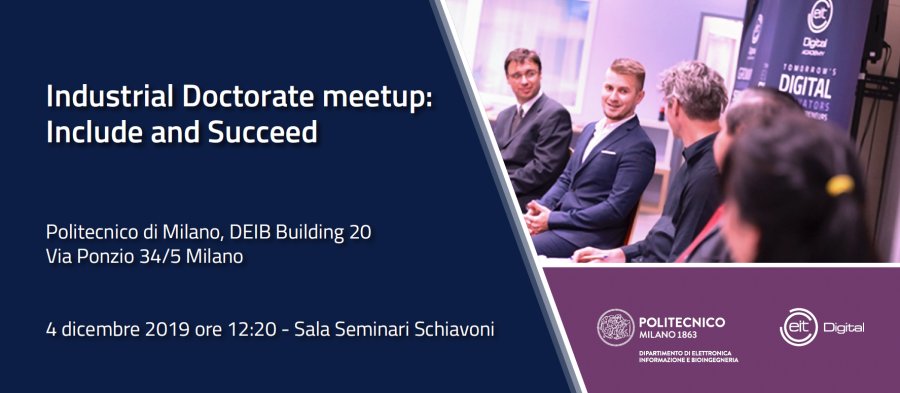 Abstract
On
December 4th, 2019
EIT Digital and
DEIB – Dipartimento di Elettronica, Informazione e Bioingegneria
are organizing the
EIT Digital Industrial Doctorate meetup: Include and succeed
in DEIB "Schiavoni" Seminar Room (building 20).
In this meetup EIT Digital and DEIB include industry and academic perspectives to bring solutions the industry needs to succeed in a strong digital Europe.
Making business and innovation out of technology requires more than just technical skills. The fundamental idea is to bring research to the industry and connect the industry with the academic world. The engagement of EIT Digital in Europe has shown the benefits of Industrial Doctorates for the industry in talent harvesting, pursuing innovation goals and succeeding. With keynotes from academy and industry, contributions from PhD students and a panel discussion, the Industrial Doctorate meetup by EIT Digital and Politecnico di Milano aims at sharing on the challenges and needs to foster innovation, including all the different perspectives at stake.
The full program is available at the following link
http://www.eventideib.polimi.it
.
Please, register at
https://doctoralschool.eitdigital.eu/registration-industrial-meetup/
.