CommTech Talk. From 2G to 5G: how the evolution of mobile architecture impacts on antenna line filters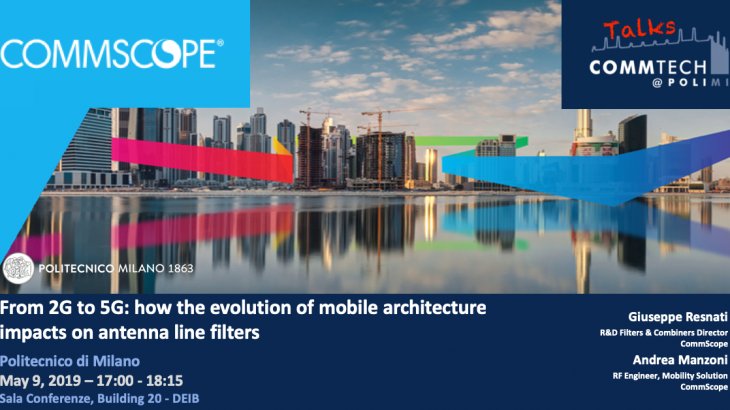 Giuseppe Resnati
R&D Filters & Combiners Director, CommScope
Andrea Manzoni
RF Engineer, Mobility Solution, CommScope
DEIB - Conference Room "E. Gatti"
May 9th, 2019
5 pm - 6.15 pm
Contacts
:
Ilario Filippini
Guido Maier
Research Line:

Networking
Abstract
On May 9th, 2019 at 5.00 pm, a new CommTech Talk will take place at Conference Room "Emilio Gatti" -Building 20.
As wireless network demands skyrocket with the proliferation of 4G and the imminent arrival of 5G networks, spectrum is more precious than gold. Squeezing every last efficiency from your network's spectrum has become a business-critical priority.
At CommScope, we're always anticipating what's next. From tower antennas that deliver uncompromising performance to fiber-optic backhaul that can reach speeds of 100 Gbps, we're designing, engineering and building solutions that help make the wireless network industry prosper.
Moving around this RF path jungle can be easy to lose orientation, for people and signals too: that's why filter and combiner solutions play a crucial role to discipline the wireless goldrush.
Let's share with you how CommScope and Japan's mobile operator – NTT DoCoMo have collaborated last year to deploy ultra-wide penta-band combiners to sustain the exploding 4.5G coverage and capacity demands to deliver low latency and a high performance experience for more than 250 million impatient Japanese Pokémon Go users.
Registration: http://tinyurl.com/commtechpolimi.
CommTech Talks @ POLIMI are a series of seminars and panels organized weekly by the study program in Telecommunications Engineering and the master of science track in Internet Engineering of Politecnico di Milano for stimulating the networking between students and people from industry and research.