Processing Streaming Data with KSQL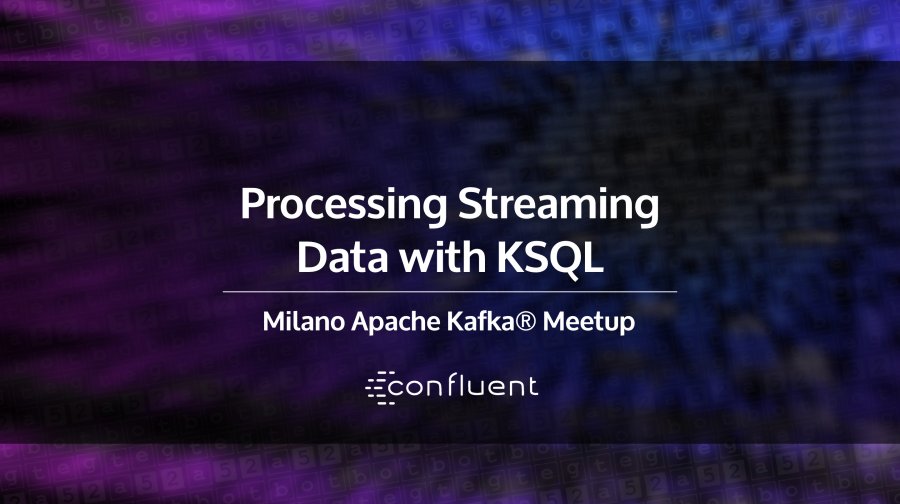 Tim Berglund
Teacher and technology leader with Confluent

DEIB - Conference Room "E. Gatti" (building 20)
October 30th, 2018
7.00 pm - 9.00 pm

Contacts:
Riccardo Tommasini

Research Line:
Data, web, and society
Abstract
Apache Kafka is a de facto standard streaming data processing platform, being widely deployed as a messaging system, and having a robust data integration framework (Kafka Connect) and stream processing API (Kafka Streams) to meet the needs that common attend real-time message processing.
Kafka now offers KSQL, a declarative, SQL-like stream processing language that lets you define powerful stream-processing applications easily. What once took some moderately sophisticated Java code can now be done at the command line with a familiar and eminently approachable syntax. Come to this talk for an overview of KSQL with live coding on live streaming data.

The registration is free, but required. The registration form is available online.
Short Bio
Tim Berglund is a teacher, author, and technology leader with Confluent, where he serves as the Senior Director of Developer Experience. He can frequently be found at speaking at conferences in the United States and all over the world. He is the co-presenter of various O'Reilly training videos on topics ranging from Git to Distributed Systems, and is the author of Gradle Beyond the Basics. He tweets as @tlberglund, blogs very occasionally at timberglund.com (timberglund.com/), is the co-host of the devrelrad.io (devrelrad.io/) podcast, and lives in Littleton, CO, USA with the wife of his youth and their youngest child, the other two having mostly grown up.