Take the challange, find out how to solve: Machine Learning cases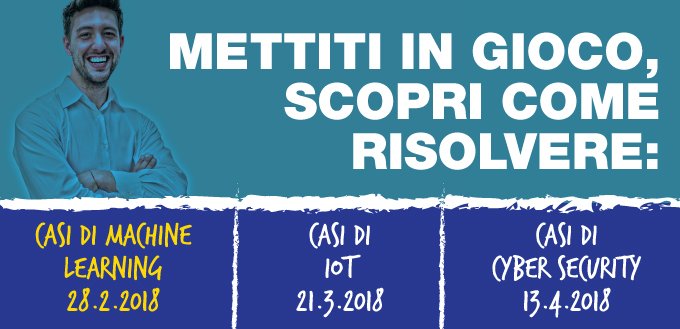 Politecnico di Milano - Leonardo Campus, Career Lab Leonardo (building 2, basement floor, Via Bonardi 2, Milano)
February 28th, 2018
11.00 am - 1.00 pm



Abstract
On
February 28th, 2018
, from 11.00 am to 3.00 pm, in Leonardo Campus (building 2), the
Career Service
will organize an event dedicated to Polimi students interested in AI and in Machine Learning.
Students and Graduates in Computer Science and Engineering, Telecommunications Engineering, Electronics Engineering will meet companies that offer Machine Learning solutions. The participants will have the chance to know how services and utilities world and many other sectors use Machine Learning, and how it helps business decisions and improves products and services. Furthermore, students and graduates will have the opportunity to take the challenge and to experience Machine Learning cases.
Would you be able to employ your IT studies in a business perspective? Are you keen on IT innovation? Don't miss the opportunity to meet the companies that operate in the IT sector and stand out for the innovation and problem-solving activities.
Participate in the "
Take the Challege
" and you will also have the chance to talk to companies' managers and furthermore to experience different cases chosen for you by the companies.
If you are a student or a graduate in Computer Science and Engineering, Electronics Engineering, Telecommunication Engineering do not hesitate to sign up at
http://www.careerservice.polimi.it
.