XGLab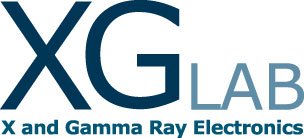 XGLab (
www.xglab.it
) was a spin-off company of the Politecnico di Milano, born in 2009 by a research group of Politecnico di Milano with an excellent knowhow in nuclear electronics.
The company operates in the field of the detectors and electronics instrumentation for X-ray spectroscopic analysis and for Gamma imaging and it deals with the design and realization of advanced ionizing radiation systems. The XGLab's product is made of hardware (radiation detector modules based on silicon drift detectors and other kinds of high performance radiation detectors, integrated and hybrid electronics circuits for acquisition and processing of signals coming from detectors, complete instrumentation for measurement and analysis of X and Gamma radiation) and of "custom" design of complete systems for scientific, biomedical, industrial and civil applications.
Some of the main applications and sectors involved are bio-medicine (diagnostic imaging, cellular biology), environmental monitoring (pollution, waste recycling), industrial analyses (chemical composition of matrerials), study and conservation of artistic and cultural heritage (restoration preliminary analyses, authenticity check), homeland security (anti-terrorism, nuclear plants), research in physics and astronomy fields (atomic and nuclear physics, spatial missions).
On August 7th, 2017 Bruker announced that it has acquired XGLab S.r.l.
XGLab will continue to operate under its current name and management, and is also looking forward to expand its read-out and signal processing OEM business with existing and additional partners.