Modeling and control of a three-generation plant with a gas microturbine and an adsorption refrigerator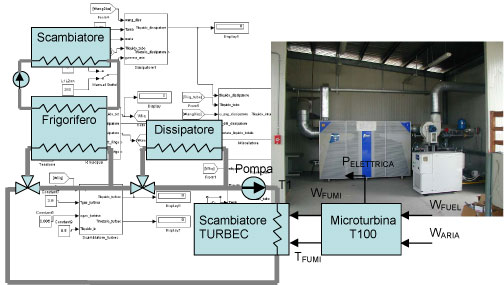 Research Area:

Research Lines:


Responsible:

Research
-
Start date: 2004-01-01
-
Project abstract
The contemporary production of three energy forms (electric energy, heat and cold), all meant as useful effects, is defined as three-generation. The present work refers to an experimental three-generation plant producing electric energy, thermal energy for heating and thermal energy to produce refrigerated water, which, in turn, has to feed an air-conditioning plant. Electric energy and heat are produced by a gas microturbine, chilled water by an absorption LiBr refrigerator. For the various plant components, a dynamic mathematical model has been realized, based on first principles and constitutive equations. This model is control oriented and it is meant to the study of working characteristics in both stationary and dynamic operating conditions. The related software for simulation has been structured so as to be extendible to other kinds of plant. Besides, industrial control has been designed for the turbine, more precisely to optimize its fuel consumption, and strategies for minimizing plant operating costs have been enacted, based, in particular, on the requirements of a block of flats, for a typical winter day and for a typical summer day. Theoretical investigations are almost completed; modeling improvements are foreseen, especially for the refrigerator: this will allow to test the predictive capabilities of the final model against the whole plant. As far as control is concerned, as well, comparison with experimental data will possibly lead to an optimal controller setting.

Project results
The project is closed.