Milan Robocup team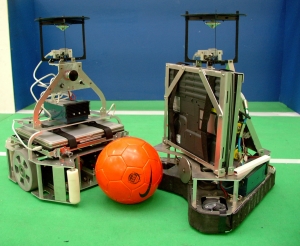 Research Area:

Research Lines:


Collaboration with Academic Institutions and Research Centres
-
Start date: 2001-01-01
-
Project abstract
The project's aim is to realize a team of autonomous robotic soccer players, capable of competing in international Robocup competitions (
http://www.robocup.org
). The project is developed in collaboration with the Dipartimento di Informatica Sistemistica e Comunicazione of the Università di Milano-Bicocca. This is a continuative project and it will carry on till resources will be found. The Robocup initiative's aim is to have in 2050 a robot team that will be able to play against the world champion human team.

Project results
The project started in 2001 and has produced from then 9 autonomous robots, 7 papers in international review, 2 editions of proceedings, 4 books' chapters, 14 papers in international proceedings, 4 in national proceedings and 2 spreading papers, in addition to several interviews in national newspapers and in programs and television news on the greater national channels.
Also public demonstrations were done at SMAU (2003 and 2005), Festival della Scienza and in other exhibitions.