Automatic control of the stability for two wheel vehicles (Project developed within the European Interregional Regins project named "safebike")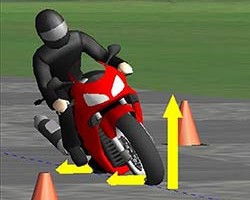 Research Area:

Research Lines:


Research
-
Start date: 2005-01-01
-
Project abstract
The project has developed stability control algorithms for two wheel vehicles. Two wheel vehicles are becoming more attractive to decrease pollution and traffic in large metropolitan areas. One of the major problems that affect scooters is their intrinsic dangerousness for the problems of vehicle's stability, especially on the wet.
The aim of the project was to develop an electronic control system to allow, through the coordinated use of breaks, the automatic stabilization of the scooter in critical conditions. The idea is somehow similar to the ESC systems. This research took place in the context of a large European project called "SAFEBIKE" (Stability control by Advanced Full-braking systems of 2-whEel motorBIKE vehicles), implemented in conjunction with the University of Linz (Austria), the University of Gyor (Ungheria), KTM Motorcycles and Brembo. The project is closed.

Project results
A dynamic simulator of a two wheel vehicle has been developed, well suited for the design of stability control systems; it includes a refined model of the braking system and modulation devices.
An algorithm for the approximate estimation of the rolling angle has been also developed. Some algorithms have been developed to adapt control algorithms of ABS systems, when the vehicle is negotiating a curve; it improves remarkably the vehicle security when it is breaking and curving on wet surface.
Scientific publications:


Tanelli M., F. Schiavo, S.M. Savaresi, G. Ferretti (2006). Object­Oriented Multibody Motorcycle Modeling for Control Systems Prototyping. IEEE Computer Aided Control Systems Design Symposium (CACSD), Munich, Germany (to appear).
Ferretti G., S.M. Savaresi, F. Schiavo, M. Tanelli (2006). Modeling and simulation of motorcycle dynamics for active control system prototyping. 5th International IMCAS Symposium on Mathematical Modeling (MATHMOD 2006), Wien, Austria (to appear).