GoF4R - Governance of the Interoperability Framework for Rail and Intermodal Mobility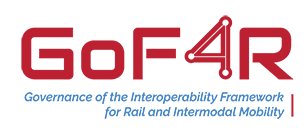 Research Area:

Research Lines:


Horizon 2020
DEIB Role: Partner
Start date: 2016-11-01
Length: 24 months
Project abstract
The establishment of good governance will effectively secure the confidence of the industry to use the Interoperability Framework (IF) semantic technologies that will be established under the IP4 Shift2Rail program. The objective of the Governance of the IF for Rail and Intermodal Mobility (GoF4R) project is to define sustainable governance for the IF that will create the right conditions to introduce seamless mobility services and foster the development of multi-modal travel services. GoF4R will help to overcome obstacles currently impeding development of market innovation by fostering a large acceptance of the "semantic web for transportation." The objectives will be achieved through a partnership of specialist participants including research institutions, a major European rail operator, industry associations representing the passenger and multi-modal transport sectors and public transportation authorities. Participants, who are also involved in the consortium of designers for the IF, will focus on the establishment of sustainable governance that will promote community confidence. The governance structure will create the basis for long term stability and controlled future evolution of the IF, promoting industry confidence so that it is attractive to invest in future products and services. The project encompasses all current and future stakeholders who will exploit the IF as described in the Shift2Rail Multi Annual Action Plan, contributing to the realisation of a distributed semantic "web of transport" integrating the TAP-TSI specifications as one of its elements. The governance models proposed in GoF4R will assure the interests of European travellers by fostering market uptake by mobility service providers. It will facilitate new business opportunities for improved mobility and travel related services and improve the incorporation of new stakeholders in the European arena by removing technological, administrative and economic boundaries.