ART DECO Adaptive InfRasTructures for DECentralized Organizations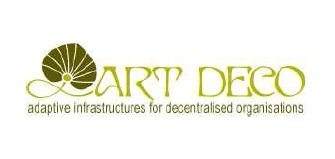 Research Area:

Research Lines:


Responsible:

Participants:

Research
-
Start date: 2005-11-30
-
Project abstract
The research aims at developing techniques and methods for the diffusion of "networked enterprises" among the Italian Small and Medium Enterprises, testing the proposed approach in association with companies working in two test fields (food and textile/fashion) during all the phases of the project, from the initial definition of requirements to the development of prototypes/ demonstrators, through a flexible and iterative process, where the technological development advances together with knowledge acquisition and with the refinement of network mechanisms.
To pursuit such results, the research consists of three macro-goals: Organization and business models for networked enterprises; Acquisition, modeling and automatic management of business knowledge derived from heterogeneous sources, including natural language; Technological autonomic pervasive infrastructure, based on smart peripheral devices (WSN and RFID).
At the moment the autonomic platform (in particular, the integrated workflow engine) has been definied; the methodologies and ontologies, in the context of the information extraction activity have been developed; the HW technologies for the project case-studies have been have been selected.

Project results
During the first year, the following software technologies have been developed: an autonomic platform, supporting the "network enterprises"; methodologies and algorithms for active (WSN) and passive (RFDI) periphery; methodologies for knowledge extraction from non-structured sources, knowledge integration with structured sources, and customization of the information extraction process.
In the context of the project, the partners have published nine journal papers and more than thirty conference papers.