Cini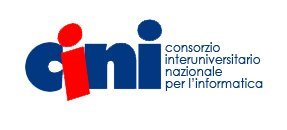 CINI
, a consortium of 41 universities, is today one of the most significant point of reference for the Italian academic research activities in the fields of Computer Engineering, Computer Science, and Information Technologies.
Established in 1989, CINI is under the supervision of the Italian Ministry for University and Research.
It includes public universities, only, and the quality of its research activities is periodically valuated by ANVUR, the Italian National Agency for the Evaluation of the University System and Research.

The consortium is committed to provide added-value to the Partner Universities, Industry, the Italian Public Administration and the overall country, thanks to its key role both at the domestic level, being the representative of almost all of the Italian academic informatics community, and at the global level, due to the links with its international partners and networks.