Switch2Product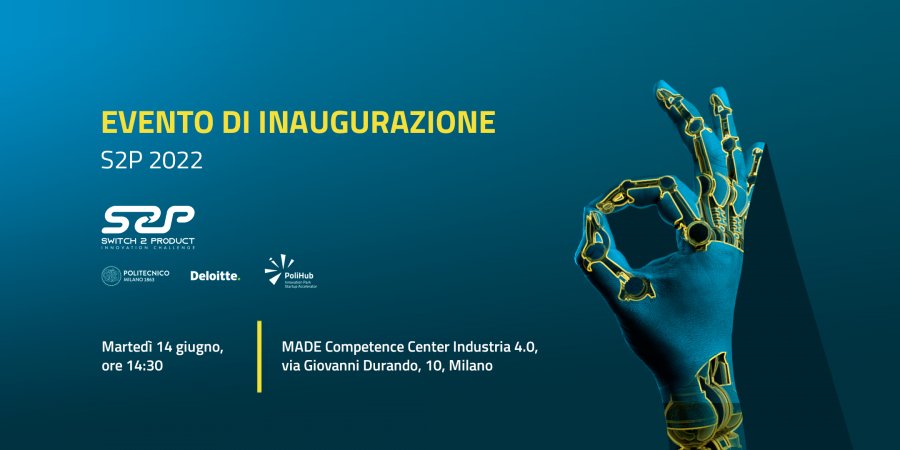 Politecnico di Milano - MADE Competence Center Industry 4.0 (Via Giovanni Durando, 10)
14 giugno 2022
ore 14.30


Abstract
Martedì 14 giugno 2022 si terrà l'inaugurazione della quattordicesima edizione di Switch2Product.

S2P è il Programma d'Innovazione organizzato da PoliHub, Technology Transfer Office del Politecnico di Milano e Officine Innovazione di Deloitte, nato per supportare la nascita di startup innovative, valorizzando i frutti dell'attività di ricerca e promuovendo l'imprenditorialità.

S2P si rivolge a studenti, ricercatori, dottorandi di ricerca, docenti e alumni del Politecnico di Milano, Polimi Graduate School of Management e Poli Design e rappresenta un'occasione unica per portare un progetto sul mercato. I team selezionati incontreranno esperti che li seguiranno in un percorso di empowerment imprenditoriale e accederanno a grant e percorsi di accelerazione tailor made per realizzare un PoC e ottenere un investimento seed.
Anche quest'anno i progetti saranno suddivisi in quattro categorie: Health & Biotech, Climate Tech & Circular Economy, Industries Trasformation e New ways of working and living.
L'evento inaugurale si terrà dalle 14.30 alle 17.00, presso MADE Competence Center Industry 4.0 in Via Giovanni Durando, 10.
Per partecipare è necessario iscriversi al link disponibile qui.