MEETmeTONIGHT 2021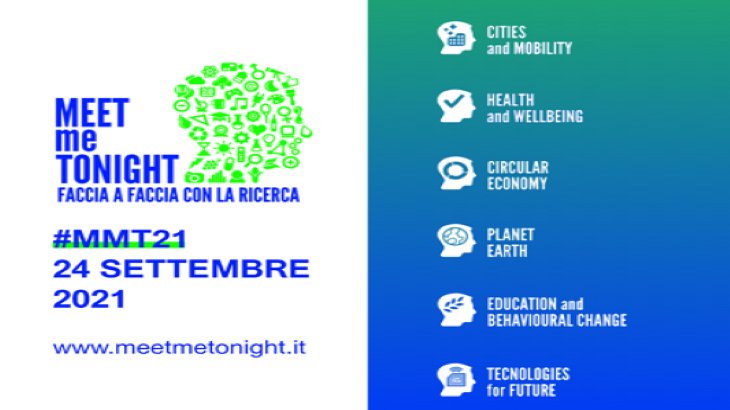 Politecnico di Milano - Evento On line
24 Settembre 2021
ore 11.00 - 19.00


Abstract
Il
24 settembre 2021
torna
MEETmeTONIGHT 2021
, appuntamento annuale legato alla
Notte Europea dei Ricercatori
con
lezioni, laboratori, dimostrazioni scientifiche, visite virtuali, talk divulgativi, per diffondere la cultura scientifica tra grandi e piccoli.
Giunto alla sua decima edizione, anche quest'anno, sarà articolato in una serie di
iniziative online
.
L'edizione 2021
di
MEETmeTONIGHT
ruoterà attorno a un unico macro-tema: il concetto di "
Futuro
".
Per meglio delineare e realizzare questo macro-tema, e riflettere la vocazione dei partner coinvolti, che abbracciano una grande ricchezza di temi di ricerca, tutte le iniziative proposte da MEETmeTONIGHT sono raggruppate in sei grandi pilastri tematici:
Cities and mobility, Cities and mobility, Circular economy, Planet Earth, Health and wellbeing, Education and Behavioural change e Technologies for future
.
Attività in programma per il Politecnico di Milano
Tra gli eventi proposti dal DEIB segnaliamo:

Cosa sono le Competizioni di cybersecurity? -
Lorenzo Binosi


Affrontare il cambiamento climatico modellando il comportamento degli agricoltori: il progetto MODFABE -
Sandra Ricart
Per conoscere tutto il programma vai al sito ufficiale di MEETmeTONIGHT