Progetto Prisma – Parla il tedesco con Bosch! XV Edizione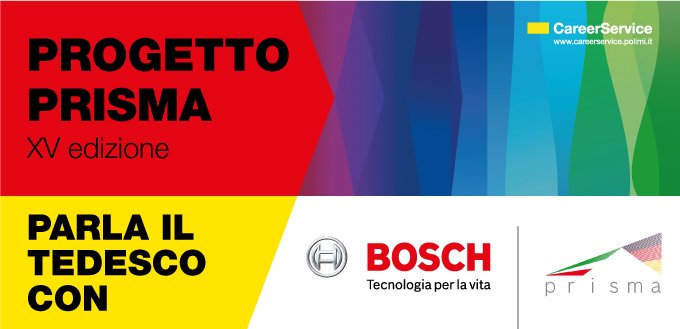 Politecnico di Milano - Aula Magna Carassa e Dadda
Campus Bovisa Building BL28
Via Lambruschini 4, Milano
September 23rd, 2019
10.30 am - 12.00 pm


Abstract
On
September 23rd, 2019
, Bosch returns with the XV edition of "
Progetto Prisma – Parla il tedesco con Bosch!
" event will be held at Aula Magna Carassa e Dadda, Campus Bovisa (building BL28, Via Lambruschini, 4 - Milano), organized by
Career Service
, and dedicated to Politecnico's students and graduates.
During the event
12 students
from Politecnico di Milano will have the opportunity to learn German thanks to a free course offered by the company.
The company representatives will illustrate the project, selection requirements and calendar of the lessons.
Further information is available at
link