XII Congresso di pediatria "IPC Workshop"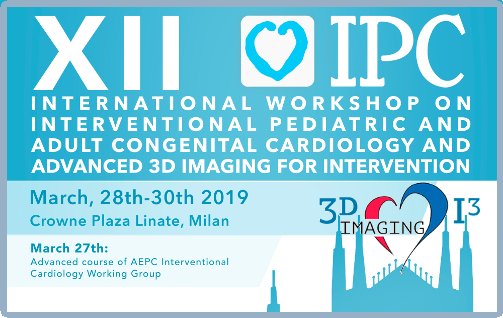 Abstract
Dal 28 al 30 marzo 2019 si terrà a Milano il 12° congresso di pediatria "International Workshop on Interventional Pediatric and Adult Congenital Cardiology and Advanced 3D Imaging for Intervention" a cui interverrà il gruppo di ricerca del DEIB di Ingegneria biologica e biomeccanica.
In particolare si segnala la partecipazione di:
prof. Alberto Redaelli con l'intervento dal titolo: "Innovating the planning of CHD treatment"
prof. Emiliano Votta con l'intervento dal titolo: "Innovating the planning of CHD treatment"
dott.ssa Francesca Pluchinotta con l'intervento dal titolo: "Virtual device prediction: fancy simulation or useful tool?".
Il gruppo di ricerca parteciperà anche al 3d corner, non solo uno spazio espositivo ma parte integrante del programma scientifico.
Il 3D corner è uno spazio innovativo pensato per sottolineare l'importanza dell'integrazione tra l'imaging, in particolare l'imaging tridimensionale, e l'emodinamica interventistica. Vuole inoltre essere uno spazio per presentare alla comunità scientifica il laboratorio di simulazione e stampa 3D che è stata istituita ormai 2 anni fa nell'ambito di una collaborazione tra Policlinico di San Donato e Politecnico di Milano dedicato allo sviluppo di progetti innovativi di ricerca bioingegneristica applicata all'emodinamica intervenstistica e alla chirurgia.
Per creare uno spazio più articolato e scientificamente più valido saranno aperti 3 booths di imaging durante tutti i 3 giorni di congresso dove la gente possa andare a conoscere/sperimentare nuove tecniche di imaging trimensionale sia durante i coffee/lunch breaks che durante le sessioni.
Nel dettaglio i 3 booths saranno curati uno dal Politecnico, uno dal Laboratorio 3D Policlinico di San Donato, e uno da Siemens.