Presentazione IET Inspec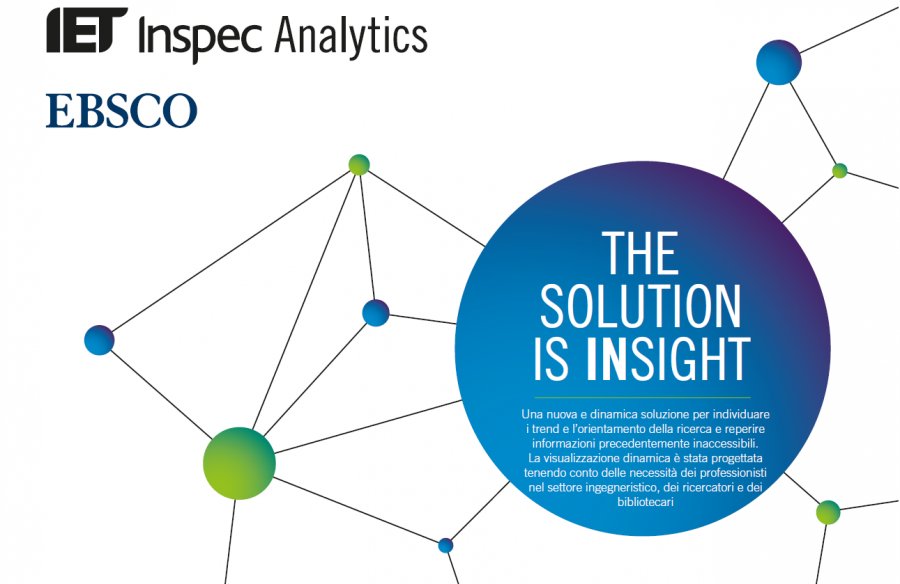 Mike Petersen
Head of Sales EMEA - IET

Silvia Canavesio
Regional Sales Manager - EBSCO Information Services

Politecnico di Milano - Campus Bovisa La Masa, Biblioteca (edificio BL 28, piano 2 Via Lambruschini, 4, Milano)
18 marzo 2019
ore 13.00



Abstract
Il 18 marzo 2019 alle ore 13.00, EBSCO Information Services e IET The Institution of Engineering and Technology, in collaborazione con il Politecnico di Milano, presentano IET Inspec, con formula lunch&learn, presso la Biblioteca di Bovisa La Masa.

Programma
ore 13.00 - INSPEC
Creata da The Institution of Engineering and Technology, questa importante banca dati bibliografica fornisce indicizzazione ed abstract di articoli e documenti su fisica, ingegneria elettrica, elettronica, delle comunicazioni, ingegneria di controllo, informatica, tecnologia dell'informazione, produzione e ingegneria meccanica con oltre 17 milioni di records, circa 5.000 riviste, più di 2.500 atti di conferenze, libri, dissertazioni, brevetti, reports e video.

ore 13.15 - INSPEC Analytics
Recentemente IET ha realizzato il nuovo modulo INSPEC Analytics, uno strumento innovativo che combina la tecnologia semantica con gli indici di INSPEC, con l'obiettivo di creare collegamenti tra istituzioni, autori, articoli e concetti. In questo modo INSPEC Analytics fornisce una nuova modalità di visualizzazione e nuove funzionalità, per andare oltre la semplice letteratura e approfondire le connessioni tra le reti della ricerca scientifica, ricavando nuove idee e identificando i trend e l'andamento della ricerca.

ore 13.40 - INSPEC con full text
EBSCO integra la banca dati INSPEC con Engineering Source, una collezione di oltre 1.600 riviste accademiche in testo completo, consentendo così agli utenti di consultare anche il full text di molti record bibliografici reperiti tramite INSPEC. Grazie ad EBSCOhost, l'esperienza di ricerca sarà più rapida e completa.

L'evento è rivolto a docenti, ricercatori e dottorandi.