Career Meeting with Alumni Polimi of Electrical Engineering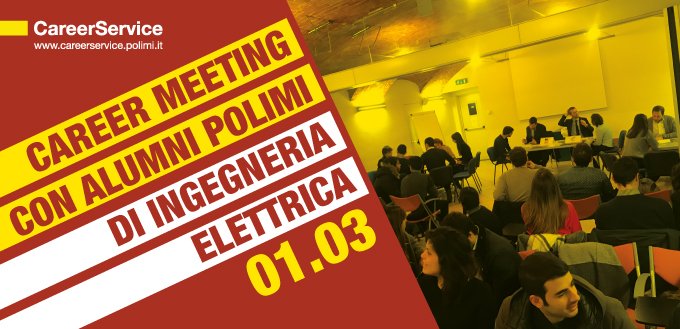 Politecnico di Milano - Campus Leonardo, Career Lab (Building 2, basement floor, via Bonardi 2, Milano)
1 marzo 2019
ore 10.00 - 13.00


Abstract
On
March 1st, 2019
, the "
Career Meeting with Alumni Polimi of Electrical Engineering
" event will be held at Leonardo Career Lab in Leonardo campus (building 2, Via Bonardi 2 - Milano), organized by
Career Service
.
The event is dedicated to Master of Science students in Electrical Engineering of Politecnico di Milano.
Take part to Career Meetings with Alumni Polimi of Electrical Engineering and you can talk with managers with the same path of studies as yours to figure out:
how to approach to the job market and how to get in best you can,
what kind of job you could do,
the skills that are requested for the differents roles.
The meeting allow to you to chat in a friendly way with Alumni Polimi who work in the companies who will take part in the event, for about twenty-thirty minutes for each company.
In group with other students you can confront with managers who will answer to your questions about the work life in the company they work for, the sectors, their career path, their role, the projects that have been submitted at the beginning of their career. You can get useful suggestion to prepare yourself the best you can for your future, the speakers make avalaible for you all their experience.
Moreover you can confront with your classmates, indeed listening to their questions and to the answers of the Alumni, you can get other information.
The entrance will be allowed to no more than sixty people. Career Service will confirm your participation via e-mail.
Please, note that registration is required at
http://www.careerservice.polimi.it
.