AIRLab - Artificial intelligence and robotics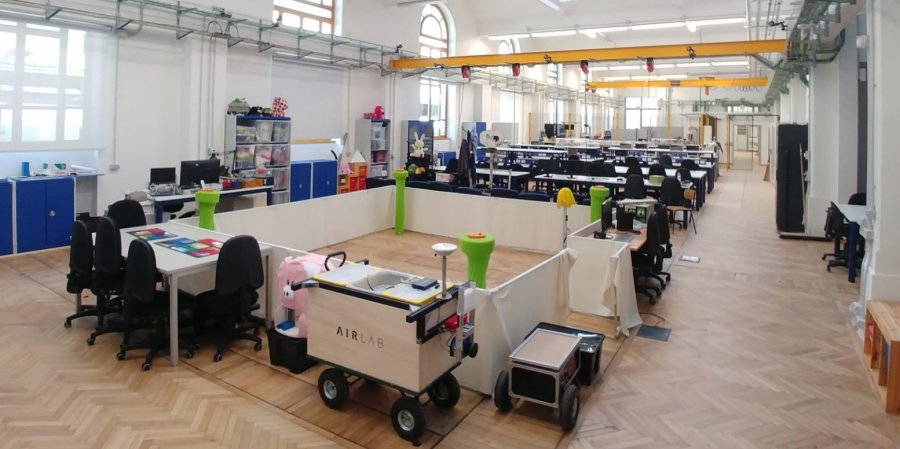 Research Area:


Research Lines:

Activities
The laboratory was established in 1973 by Marco Somalvico, to support research and teaching activities of professors, students and researchers in the fields of Artificial Intelligence, Machine Learning, Robotics, and Artificial Vision. In particular, the main activities at AIRLab concern:
Design and development of autonomous robots for applications such as service, manufacturing, entertainment, exploration, edutainment, and rehabilitation
Robot Rapid prototyping systems
Bio-mimetic and humanoid robots
Autonomous robot benchmarking
Artificial vision for robotic and industrial applications
Analysis and interpretation of sensory data and multi-sensory fusion
Intelligent data analysis, including bio-signals
Autonomous agents and multi-agent systems, with applications in systems of automated negotiation, museum systems, interpretation of sensory data, exploration and operation in unknown environments, support to human bodily functions, environmental monitoring, supervision and control
Models of communication among agents
Social software e semantic web
Intelligent human-machine interfaces, including Brain-Computer Interfaces (BCI) and emotional interfaces
Soft computing applications: fuzzy control, fuzzy models, neural networks, genetic algorithms
Data mining
Machine learning
Algorithmic Games and Game Theory
Knowledge-based systems for applications supporting decisions, diagnosis, modelling and prediction of new compounds
E-Science and bioinformatics
Affective Computing and emotion detection
Human-Robot Interaction
Videogame and robogame design, adopting computational intelligence techniques
In the 3 sites belonging to AIRLab, more than 20 robots (both on wheels, flying, and biomimetic, mostly designed and implemented in the lab), a mechanical and electronics workshop, an automated apartment, and a large set of sensors (including a full motion analysis system Optitrack) are available.
Information service
Access to the laboratory is reserved to authorized people. The procedure to obtain authorization is described in the laboratory's Regulation, available online at
http://airlab.deib.polimi.it/
The laboratory has these physical locations:
AIRLab Leonardo - Building 7 - Piazza Leonardo da Vinci, 32 - Milano. Ground Floor.
AIRLab Bassini - Building 21 - Via Golgi, 39 - Milano. First floor.
AIRLab Como - Via Anzani, 42 - Como. Room T01 (on the ground floor).