WaveLab - Wavefield characterization, measurement and processing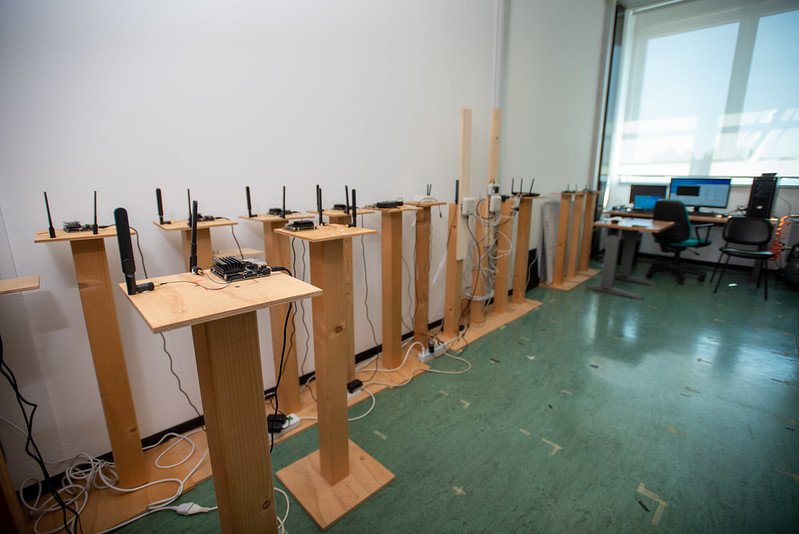 Research Area:


Research Lines:

Activities
WaveLab is a joint laboratory of Politecnico di Milano and Consiglio Nazionale delle Ricerche (CNR) established in 2016 to design, develop and test mm-wave (up to the THz band) communication/processing systems for next generation wireless networks. Research activities focus on the following topics:
Design, production and measurement/testing of passive devices (antennas, filters, metamaterial devices) for bands from GHz to THz, as well as radio-frequency devices based on software defined radio, in cooperation with MetaMAT-Lab.
Measurement and modeling of propagation channels for beyond 5G radio systems (mm-wave and THz).
Development and high TRL validation of learning algorithms and computing systems for human-machine interaction, such as device-free localization, imaging and radio vision systems.
Design and development tasks are carried out using simulation tools such as MATLAB/SIMULINK (MathWorks) and LabView (NI), software tools such as C/C++ and Python, and hardware-related tools for DSP/FPGA fast prototyping. In addition to workstations, equipment includes a spectrum analyser Textronix RSA507A 9kHz to 7.5GHz with tracking generator, battery-powered radio devices (50+ IEEE 802.15.4/ZigBee compliant, 10+ WiFi), a Textronix 300 MHz oscilloscope, 4 SDR transceivers USRP N210 700MHz-6GHz, and a vector network analyser 1MHz-40GHz. A 2x2 MIMO testbed (scalable up to 4x4 nodes) with RF up/down converters and generators/analyzers has been developed. A sub-TeraHertz source (100 GHz) and a camera array (32x32 pixels from 0.05 – 0.7 THz) from TeraSense, in addition to 10+ 122 GHz radar devices from Silicon Radar, are adopted for experimentation in the mm-wave bands.
The circuit board plotter LPKF ProtoMat S103 is used for producing PCB prototypes of RF and microwave devices.
Current activities focus on machine learning algorithms for device-free interaction with the environment in advanced I4.0 settings, radio-imaging for environmental vision and recognition, device-free localization and tracking, crowd sensing and counting, massive MIMO and cooperative radar systems for mm-wave communications.
The WaveLab team actively cooperates with the interdipartimental laboratory
IoTLab
(contact: Prof.
Monica Nicoli
, DIG - Politecnico di Milano).