HEAP Lab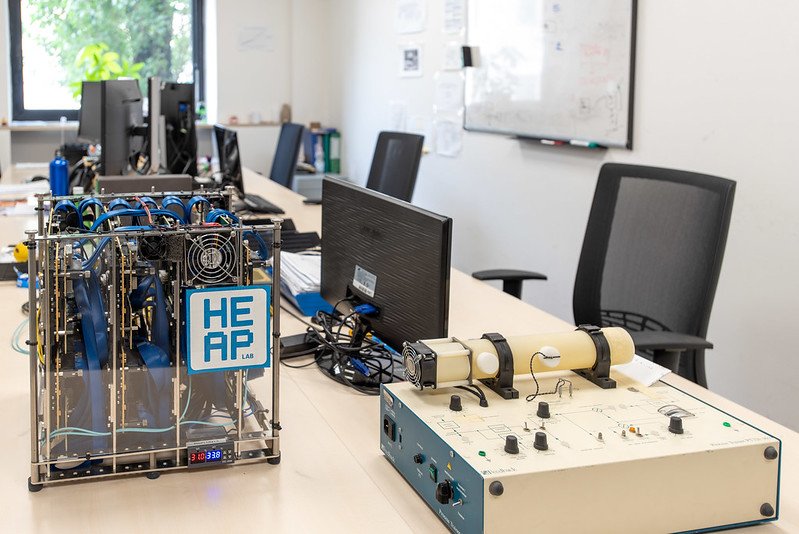 Research Area:


Research Lines:

Activities
In
HEAP Lab
almost twenty among Professors, Researchers and PhD students working on different engineering subjects collaborate to design advanced hardware and software architectures, and to develop new methodologies and prototypes that can facilitate the automation of the different design phases of advanced embedded and computing systems.
The research topics developed in HEAP Lab are distributed along the so-called "computing continuum": Computer Architecture, High-Performance Computing, Runtime Resource Management, Thermal and Energy Management, Security – Cryptography, Compiler Technology, Application Autotuning and Autonomic Computing, Wireless sensor networks and Embedded systems for automotive and wearable computing. You can find detailed descriptions of each research topic and a list of relevant publications for each research line on the
Lab's website
.
HEAP Lab members, thanks to their wide range of competencies, are able to transfer the technologies developed to the industrial world. In particular, they can develop cyber-physical and embedded systems, they can design software and hardware working at low power, they can construct compilers, secure embedded systems and they can assure data privacy.
HEAP Lab was founded in 2015, but its members have more than twenty years of experience in advanced research at the European level, focusing on establishing collaborations with industries to identify project ideas and to transfer the technologies to the market. The Lab is currently active in 4 Horizon 2020 projects sponsored by the European Union: MANGO, SafeCOP, M2DC and the most recent RECIPE, for which HEAP Lab acts as Coordinator. This makes the Lab one of the major European hubs for research on high-performance computing. More details on current and past projects can be found on the Lab's website.
Service information
HEAP Lab is situated on the first floor of Building 21, via Golgi 39 – Milano.
More information can be found on the
Lab's website
.