CoNISMa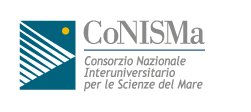 CoNISMa
-
Consorzio Nazionale Interuniversitario per le Scienze del Mare
was founded on February 21, 1994. The CoNISMa Consortium promotes and coordinates research and scientific activities and their applications in the field of Marine Sciences among the 35 associated Italian Universities.
The CoNISMa realizes projects of research, formation and other scientific activities and applications in the camp of the Science of the Sea.
The Consortium is therefore to favor non-collaboration between the Consortium University, including the University, public organizations and private and international search agencies, local and territorial entities, productive structures.
It is organized in terms of thematic structural and endowment grants in order to aggregate competencies with specific problems, creating a significant value of respect for the capacity of singles.
This Consortium organizes an indispensable tool for valorization of various competencies of the Sea Science to attract an interconnectedness system, to stimulate confrontation and coordination of the University with aspects of particular interest in the development of interest in business, and technological transfer, in general, due to the competitiveness of the country in the international scenario.
The organization of CoNISM will provide the maximum freedom in the search for potential potential assets, support for technical logistics tools and administrations that will provide the opportunity to access all resources necessary for all activities.
The ambitions of CoNISM's activity are based on the basic research (biodiversity, ecosystems, physical system, extreme ambiences, climatic changes), on the applied research (fishing, acquiring, maritime operations), on the development (biotechnology, innovation), on the technological research (reproduction and diet for specific spices, bioremediation, vegetarian marine species specialization, sea energy production), on the support of all decisions (integrated management of cost fascia, marine strategy).