CommTech Talk. Cellular Communication Trends: Paving the way to 5G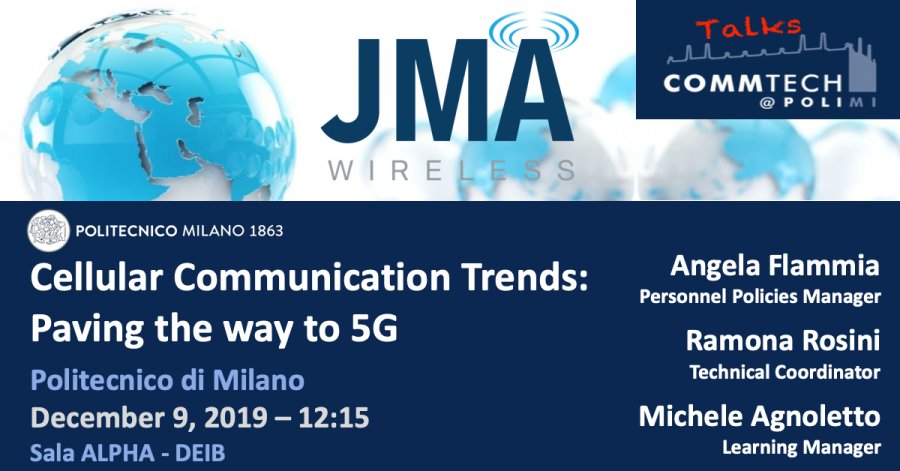 Angela Flammia
- Personnel Policies Manager, JMA Wireless
Ramona Rosini
- Technical Coordinator, JMA Wireless
Michele Agnoletto
- Learning Manager, JMA Wireless
DEIB - Alpha Room (building 24)
Via Golgi, 40 - Milano
December 9th, 2019
12.15 pm
Contacts
:
Ilario Filippini
Guido Maier
Research Line:

Networking
Sommario
On
December 9th, 2019
at
12.15 pm
, a new
CommTech Talk
will take place at
DEIB Alpha Room – Building 24
.
Data volume produced in mobile networks grew 82% between Q1 2018 and Q1 2019 and similar trends are forecasted for next years. At the same time, annual revenue per user is constantly decreasing, which is one of the main challenge operators face in the mobile industry today. How Telco industry is coping with these demanding requirements? Which approach allows for the development of a new system architecture where enhanced mobile broadband, IoT and ultrareliable/low latency communications are the keywords for network evolution towards 5G?

Registration http://tinyurl.com/commtechpolimi

CommTech Talks @ POLIMI are a series of seminars and panels organized weekly by the study program in Telecommunications Engineering and the master of science track in Internet Engineering of Politecnico di Milano for stimulating the networking between students and people from industry and research.