CommTech Talk. Data Center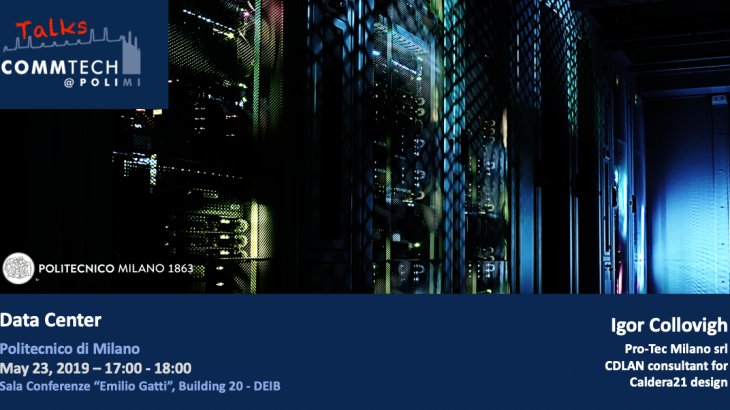 Sommario
On
May 23rd, 2019
at
5.00
pm, a new
CommTech Talk
will take place at
DEIB Conference Room – Building 20.


We believe in the great things that technology can do to accelerate the ambitions of our clients, our people, and the communities we work in every day.
Caldera21® is a CDLAN's trademark born to provide high-performance Connectivity, Cloud and Data Center services. Twenty years experience in ICT sector and the solid infrastructural investment have allowed its realization, but the challenge goes on.
Our history begins in 2000 in Milan when Corrado Del Po (CEO) founded CDLAN, an IT strategy company that exponentially expanded its skills to become a national telecommunications operator. Between 2015 and 2016, the company made the largest investment ever with the launch of Caldera21®, Tier IV compliant Data Center in Caldera campus in Milan, well-known to host the most important Italian Cloud and TLC Internet Hub.
Caldera21® enables hosted businesses at the heart of the most important world business markets. The Data Center is neutral to Carrier and Cloud Provider. This talk will overview the main challenges and solutions adopted to design a modern Tier IV ultra-reliable Data Center.
Registration: http://tinyurl.com/commtechpolimi.
CommTech Talks @ POLIMI are a series of seminars and panels organized weekly by the study program in Telecommunications Engineering and the master of science track in Internet Engineering of Politecnico di Milano for stimulating the networking between students and people from industry and research.