OWASP Italy Day 2023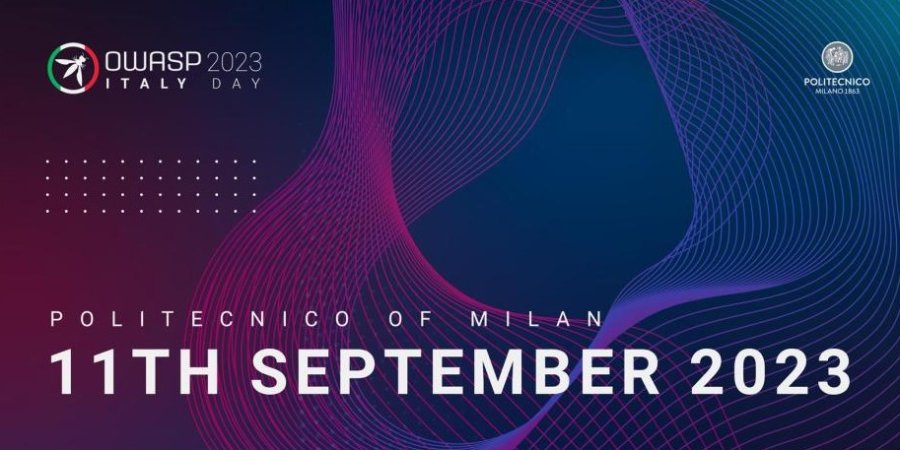 Politecnico di Milano
Via Edoardo Bonardi, 9
September 11th, 2023
9.00 am - 5.00 pm


Sommario
On
September 11th, 2023
, in collaboration with the Open Worldwide Application Security Project (OWASP), we announce the upcoming
OWASP Italy Day 2023
, which will be held at Politecnico of Milan (Polimi).
This will be a free, one-day, informal event aimed at increasing awareness and knowledge of web application security with the goal of stimulating interest in web application security and secure software engineering practices and fostering new initiatives within organizations.
In particular, the OWASP Italy Day 2023 is a captivating one-day conference exclusively dedicated to web application and software security, as well as application security testing tools and technologies. The event is primarily intended to appeal to security professionals, software developers, software quality engineers and computer science students with a strong interest in computer security. It presents a golden opportunity for attendees to expand their knowledge on critical application security topics and to network with esteemed professionals and experts.

ORGANIZERS
• Matteo Meucci, OWASP Italy Chair & IMQ Minded Security
• Stefano Calzavara, OWASP Italy Chair & Università Ca' Foscari Venezia
• Stefano Zanero, full professor at DEIB, the computer engineering department of Politecnico di Milano.
• Michele Carminati, Ph.D. Assistant Professor (RTDb) Politecnico di Milano - Dip. Elettronica, Informazione e Bioingegneria - NECSTLab
• Stefano Longari, Assistant Professor (RTDa) Politecnico di Milano - Dip. Elettronica, Informazione e Bioingegneria - NECSTLab

Registration is free of charge and can be performed by subscribing to the event in the OWASP Italy Meetup. We encourage participants to subscribe to the meetup to be informed about future events organized by the chapter.


For further details regarding the OWASP Italy Day 2023, please refer to the following link: https://owasp.org/www-chapter-italy/events/OWASPItalyDay2023