Personalized recommendations based on counterfactual explanations for type 2 diabetes mellitus prevention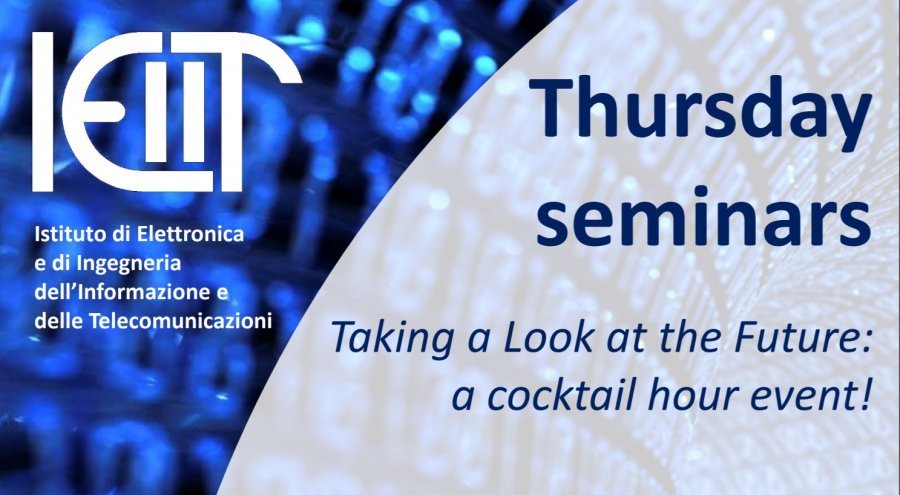 Marta Lenatti, Pierluigi Francesco De Paola, Riccardo Goldoni
CNR-IEIIT PhD Students

CNR-IEIIT
event online by Microsoft Teams
May 18th, 2023
5.30 pm


Sommario
On
May 18th, 2023
at 5.30 pm, a new appointment of the "
Thursday meetings – A glance to the future at cocktail-hour
", organized by
EIIT –
CNR
Institute, will take place online by
Microsoft Teams
.
The series of fortnightly meetings deal with specific themes connected to IEIIT – CNR institute with transversal vision through application domains and technological areas with particular attention to their evolutions.
The next seminar is a special session of the "Thursday meetings", called "
Youth of IEIIT
", dedicated to young researchers in training (PhD students, research fellows, etc.) of the CNR-IEIIT who will be given the opportunity to present their research activities carried out within the reference research groups. The "Youth of IEIIT" sessions of the "Thursday meetings" will alternate with the classic sessions which will continue with the usual biweekly cadence.
The new seminar will be held by Dr.
Marta Lenatti
(PhD student), Dr.
Pierluigi Francesco De Paola
(PhD student) and Dr.
Riccardo Goldoni
(PhD student) on the following subjects:
"
Personalized recommendations based on counterfactual explanations for type 2 diabetes mellitus prevention
"
- Dr. Marta Lenatti.
Despite the growing availability of artificial intelligence (AI) models for type 2 diabetes mellitus prediction and management, the use of these approaches in clinical practice is often limited due to their lack of transparency which undermines physician and patient trust in the decision-support system. This talk will focus on the generation of personalized recommendations using explainable AI to reduce the one-year risk of type 2 diabetes based on ten routinely collected biomarkers extracted from Primary care Electronic Medical Records. Recommendations are provided in the form of counterfactual explanations, i.e., minimal hypothetical changes in input features that lead to a change in the output class of the model (what-if scenarios). Counterfactual explanations are generated for patients at high risk of developing type 2 diabetes and evaluated using both quantitative performance metrics (availability, validity, actionability, similarity, and discriminative power) and a qualitative survey administered to expert clinicians.
"
The role of physical activity in type 2 diabetes progression: a new mathematical formulation
" -
Dr. Pierluigi Francesco De Paola.
Although the beneficial effect of physical activity in preventing or delaying the progression of type 2 diabetes is known form a clinical point of view, no mathematical models are available to explain the long term effects of physical activity. This talk will focus on the discussion of a new mathematical model that provides an explanation of the role of physical activity in maintaining and improving beta cells health status.The model proposes a two-time scale formulation, able to take into account of both the short term and long term dynamics that involves physical acitivity. Moreover, it formalizes the role of a specific protein released during physical exercise, Interleukin-6, that acts as intermediate agent in protecting beta cells from glucose-induced death and in promoting their replication.
"
Point of Care and Wearable Devices for Salivary Diagnostics
" -
Dr. Riccardo Goldoni.
Similarly to what we have witnessed with personal computing, the form factor of diagnostic instruments is shrinking, turning complex benchtop machines into portable and wearable devices that would soon allow continuous monitoring of biochemical analytes that could inform practices in personalized medicine. While blood remains the gold standard for most clinical examinations, saliva is rapidly gaining interest among the scientific and clinical community as an alternative biofluid for rapid diagnostics. Saliva's continuous renovation, ease of storage and processing and non-invasive collection make salivary diagnostics a promising candidate to substitute or complement the practices, especially in the context of initial screening and testing of large groups of patients. The speech will provide a bird's eye view on the most recent developments of point of care and wearable devices for salivary diagnostics and introduce my doctoral work, which focuses on the development of a point of care multisensing platform for oral health assessment through salivary analysis.
Participation is free but registration is required. Please register here.