Art and technology: new frontiers in the creative production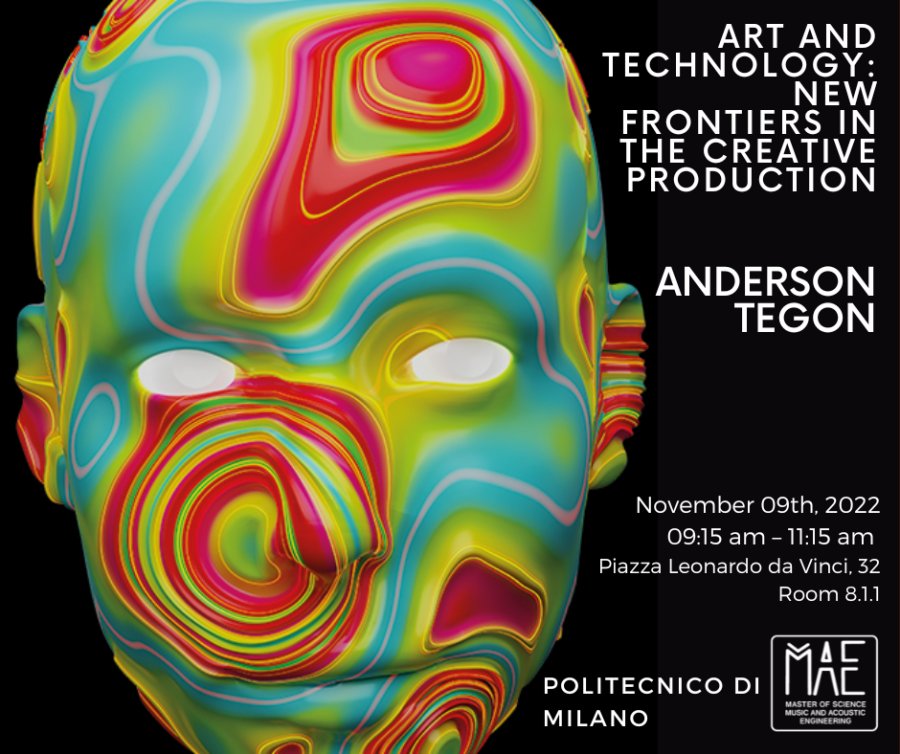 Sommario
On
November 9th, 2022
at 9.15 am,
Augusto Sarti
, DEIB Full Professor, and
Massimiliano Zanoni
, DEIB Contract Professor, will hold a seminar titled "
Art and technology: new frontiers in the creative production
" with the contribute of
Anderson Tegon
, founder of Pepper's Ghost Studio, in Room 8.1.1 at Politecnico di Milano.
What is behind the creation of an outstanding show? What is, today, the role of technology in the creative process? How is innovation technology able to open new frontiers in the show and art experience? Innovation technology has a great impact on our way of living, from social experience to our way of working. The way, today, we compose music and we create artistic experiences are also highly influenced by the new technological revolution.
High-end technologies, like 3D projections, interaction design and VR, are changing the way we experience shows and live events. In the new scenario, multidisciplinarity is the word. People from many different disciplines (art, design, engineering, etc.) need to be in the same room during the creative process, in order to exploit the full potential of the combination of art and technology. Withthe contribute of Anderson Tegon, founder of Pepper's Ghost Studio the lecture is intended to offer a perspective on the present and the future of art and show production with a particular focus on the use of innovation technology for the design of outstanding artistic experiences. Through the introduction of some recent projects (Aura, Ghost over Banksy, ecc.) it will be outlined an overview on the technologies that the studio is currently experimenting.
Biografia
Aderson Tegon steals the «innovative vision» and the extremely deep passion for work to his father and the artistic imagination to her mother and her family. He grew up and proud to be from Peseggia, a beautiful village close to Venice in Veneto region, but he travelled and lived all around the world from China to USA and above all Paris. Sports and basketball gave him a sense of motivation. After many years practicing sport, he chose creativity as his natural expression. A visionary Artist, a Digital Art and Digital Street Art pioneer able to transform a wall, a ground floor, a ceiling, every type of space or surface into a true, futuristic artwork. Anderson has a "creativity first" approach where technologies are used as means of expression, as brushes for a painter. His motto is "CANVAS IS EVERYWHERE".
Pepper's Ghost this name, recalling the first hologram effect ever, refers to a collective of digital artists, graphic engineers, visual and video artists, light and sound designers. Pepper's Ghost is a flexible brand – a tech-creative firm, a digital atelier, a factory with a front man and a collective of professionals. It is state of the art technologies and lateral thinking for arts, culture, interactive media and entertainment. It designs and produces digital exhibitions and immersive experiences, 3d mapping, lighting shows, holographic performances. Fostering creativity with the most advanced hardware and custom-built tools, it works across the spectrum, creating content and providing the management needed for the production and installation of groundbreaking works in digital arts. Now it is approaching the Middle East market with new stunning immersive experiences and installations. Pepper's Ghost realized some of the most important digital artworks in Italy: such as Aura | The Immersive Light Experience in Milan, defined one of the top 5 immersive exhibitions in Europe. On March 2022 he launched its Ghost Over Banksy, based on a famous Banksy's stencil and which reveals the first Digital Street Artwork ever made.

The registration to the lecture is required. Please register here.
Who cannot be physically accommodated in the Auditorium will anyway be able to attend the class via Webex.