Music and Acoustic Engineering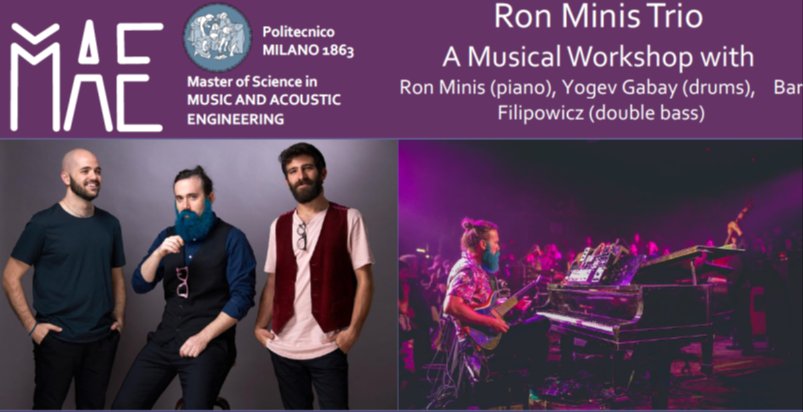 Sommario
On
October 19th, 2022
from 6.30 pm
Ron Minis Trio
will give a Concert-Workshop organized by M.Sci. prgm. in "
Music and Acoustic Engineering
" (MAE) of Politecnico di Milano in Auditorium della Casa dello Studente "L. Da Vinci",
Ron Minis doesn't think much of genre limits. His exciting virtuosic and rhythmic patterns invite you to dance and dream at the same time. In this workshop, Ron Minis his love of musical experimentation to the jazz piano trio, where he moves between lyrical phrases and energetic rhythms: he shifts abruptly from gentle piano melodies to pounding staccati and ends in ethereal sounds without losing the dramatic arc of his songs. One of Ron Minis' video series recently went viral on YouTube. In it, he shows how a piano can be combined with the latest technology and sound effects. He now brings this show live to the stage – it's powerful and dynamic, yet also dreamy and easy.
Admission is free but limited to room capacity, therefore registration through this form is mandatory.

Deadline for registration 18th October. More information in the attached program.