Been here and gone. The music of Dave Schroeder and Antonio Figura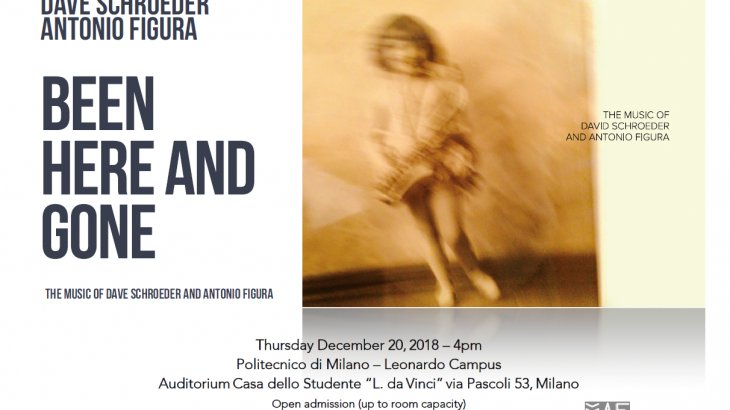 Sommario
On December 20th, 2018 at 4.00 pm as part of the new Master's Degree in "Music and Acoustic Engineering" (MAE), prof. Augusto Sarti organized a pre-Christmas musical event, with the participation of two exceptional musicians: Dave Shroeder (composer and poly-instrumentalist, director of " Jazz Studies" at the New York University – Steinhardt) and Antonio Figura (renowned composer and jazz pianist in the Roman scene).
This event marks the beginning of a collaboration between Politecnico di Milano and NYU-Steinhardt in the music research area.
Biografia
Dave Schroeder
soprano saxophone, chromatic harmonica, alto & Bass flute, piccolo and bass ocarina, MONGOLIAN EVER BUREE
B.M.E. University of Northern Iowa, M.M. New England Conservatory, D.A., New York University. As the Director of Jazz Studies, Dr. Schroeder is continually developing an interactive environment between students, artist/faculty and the jazz community thriving in and around New York City. Schroeder's vision for jazz education combines theory and practice, taking advantage of NYU's proximity and interaction with legendary jazz clubs and other music industry opportunities located within New York City and around the world. Aside from his scholarly interests in jazz history, jazz theory, arranging, composition and performance practices, Schroeder is the creator and host of the NYU Jazz Interview Series. He has developed internship opportunities for his students to begin building significant music industry connections while still in school. His students have interned with Verve Music Group, Blue Note Records, EMI, Half Note Records, Saturday Night Live and Jazz at Lincoln Center, to name a few. Schroeder is also the artistic director for Combo Nuvo, the NYU Jazz Faculty in Residence Ensemble featuring jazz artist/faculty Lenny Pickett, Billy Drewes, Rich Shemaria, Brad Shepik, Mike Richmond and John Hadfield. The group appears regularly at landmark New York City jazz venues including the Blue Note Jazz Club and Dizzy's Club Coca Cola, and has been featured with the Costa Rica National Symphony, The United Arab Emirates and the Morin Khuur Ensemble; the National Symphony of Mongolia.
Schroeder is the author of the book From the Minds of Jazz Musicians, Conversations with the Creative and Inspired, which features biographies and interviews with 35 Internationally recognized jazz artists including John Abercrombie, Benny Golson, Chico Hamilton, Sheila Jordan, Lee Konitz, Bill Frisell and others.
Antonio Figura
piano
Pianist, composer, educator. B.M.E (2007) and M.E (2009) Conservatory of music "L. Cherubini", Florence, Italy.
Virtuoso pianist, eclectic, lyrical and versatile, his music combines with great sensitivity the tradition of European and Afro-American music.
"Antonio has a definite personality and his pianism has characteristics very defined." (Piacentino)
In his aesthetic world there are Paul Bley's influences, who is perhaps the most obvious reference, Bill Evans and, further back, up to Teddy Wilson. Great masters who he knew to internalize to build a personal style. His pages are well laid out, with a great sense of space. (Gerlando Gatto)
"Antonio knows how to exploit the dynamics qualities of the piano, and he honors the space between the notes. He's achieved a truly timeless trio sound that really gives your imagination space to wander." (Soweto Kinch)
"Beautiful sounds from pianist Antonio Figura, a player who's got a great sense of space, and who really knows how to keep us waiting breathlessly for each new note!"
Figura's definitely of the Bill Evans school, but also has a more modern approach too, one that draws from a real 21st Century take on jazz piano,that sense of flow and almost blocks of sound that we love…" (Dusty Groove America) 2014 Antonio was included in the Italian Jazz Dictionary by Flavio Caprera and published by Feltrinelli.