ASTDay - Innovation domains in IoT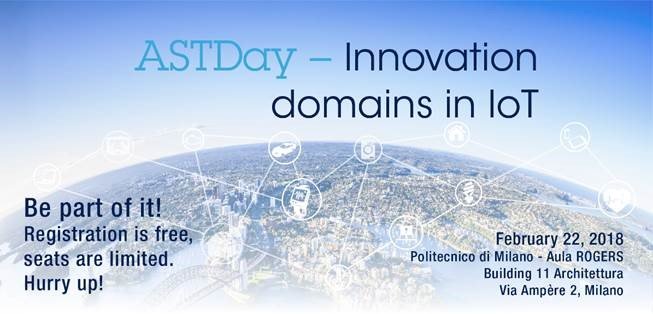 Sommario
ASTDay – Innovation domains in IoT event will take place in Milan on February 22nd, 2018, hosted by Politecnico di Milano. The event will provide a venue where researchers from STMicroelectronics and their academic partners can share views and present the latest research challenges and technological developments in IoT.

The event consists of a conference track and a STM32 microcontroller hands-on workshop. Talks in the main conference will cover the most innovative aspects of IoT research including
enabling technologies and IoT systems
advances in data analytics and artificial intelligence
IoT applications with particular emphasis on home automation, smart driving and healthcare.
The STM32 hands-on workshop will primarily address students and illustrate basic tools and guidelines to develop IoT systems based on STM32 micro-controllers.
In addition, a contest on "Innovative STM32 IoT Systems" will be launched to allow students to experience IoT development and inspire the design of innovative IoT solutions.
Please visit
http://www.astday.deib.polimi.it/
for further details and information on logistics, agenda and registration.