CommTech Talks: Special Event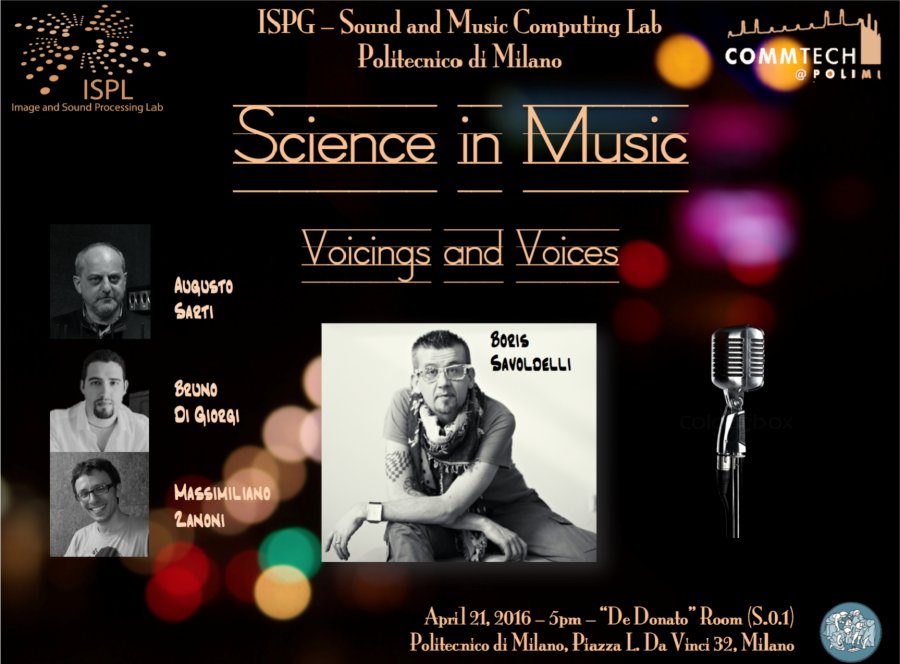 Science in Music: Voicings and Voices

Augusto Sarti, Bruno Di Giorgi, Massimilano Zanoni
ISP Lab, DEIB - Politecnico di Milano

Boris Savoldelli
Special Guest

Politecnico di Milano - Building 3, De Donato Room (Piazza Leonardo da Vinci 32, Milano)
April 21st, 2016
5.00 pm


Sommario
On
April 21st, 2016
at
5.00 pm
, a special
CommTech Talk
will take place in
De Donato Room
(Campus Leonardo - Building 3).
This is the fourth edition of "
Science in Music
", our yearly appointment with music from the perspective of the scientist.
This year we will talk about how musical tones can evolve over time in a harmonic fashion, and how they can be tamed to form multiple melodic lines. All of that we will explain in our "super-geeky" fashion calling into the picture our tools of the trade: geometry and algebra… But because we want to make sure you won't run away after 5 minutes (we have been told that we cannot lock you inside the conference room), we at the Sound and Music Computing Lab decided to spice the whole thing up and explain things in more of a practical fashion using musical instruments. We then mulled it over some more, and realized that perhaps this might scare you away even faster (scientists performing music?), therefore we decided to get wiser and call for help…
In this year's edition, in fact, we will be joined in our endeavor by the fantastic jazz singer Boris Savoldelli, internationally known as the "voice orchestra".
So, yes... you can relax... He's the real star of the event!
Registration recommended:
http://tinyurl.com/commtechpolimi

CommTech Talks @ POLIMI
are a series of seminars and panels organized weekly by the study program in Telecommunications Engineering and the master of science track in Internet Engineering of Politecnico di Milano for stimulating the networking between students and people from industry and research.