CommTech Talks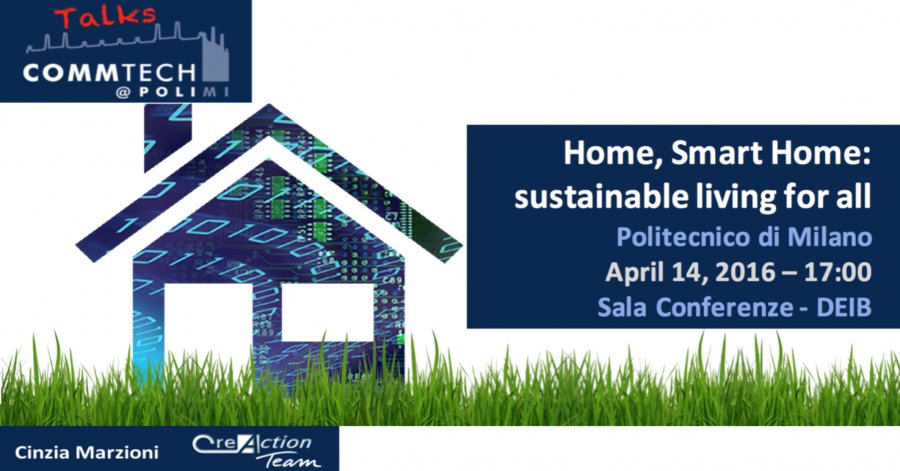 Home, Smart Home: sustainable living for allCinzia Marzioni
Founding Partner,
CreAction Team
DEIB - Conference Room
April 14th, 2016
5.00 pm
Sommario
On
April 14th, 2016
at
5.00 pm
,
CommTech Talks
will take place at
DEIB Conference Room
.
The seminar presents an overview of the
Smart Home
, as sustainable living for all.
Smart Homes "will make you calmer, safer, richer and healthier – and they already exist" - TIME magazine claimed on the cover of the July 2014 issue. Is this really true? What are the main barriers to adoption? What are the main reasons to have smart homes?
Just as the introduction of washing machines and other domestic appliances during the 1940s and later has reshaped our houses, giving them their current look, the final shape of a smart home will be the result of a process that is going to take longer than the current hype suggests.
Today's smart homes cannot be identified with a single product, but consist of a nebula of appliances, devices, systems and services that span one or more application areas. However, they all have one common idea: being connected is better.
Behind those products and solutions, there is currently a jungle of old and new technologies and standards aimed at monitoring and controlling the smart home environment and collecting information from it, including Wi-Fi, long- and short-range low-power wireless communication, mesh networks and much more - all under the architectural umbrella of the Internet of Things.
Business ecosystems reflect the complexity and evolutionary pathways of their industries, with old and new incumbents, newcomers and start-ups all looking for alliances and new business models.
All of these themes will be discussed in this talk, with the aim to give a possible answer to the initial questions and bearing in mind that at the very centre there are people living in their homes: their needs as individuals and as a community will really shape the smart home. This process has started but will have to go further in order to reflect the simultaneous changes taking place in cities and society as a whole.

Registration:
http://tinyurl.com/commtechpolimi
CommTech Talks @ POLIMI
are a series of seminars and panels organized weekly by the study program in Telecommunications Engineering and the master of science track in Internet Engineering of Politecnico di Milano for stimulating the networking between students and people from industry and research.