CommTech Talk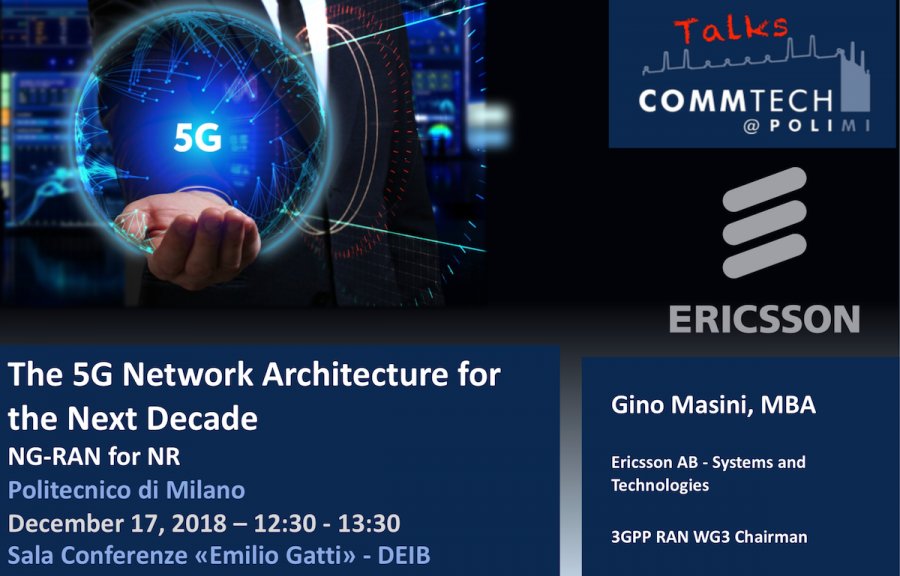 Sommario
On December 17th, 2018 at 12.30 pm, a new CommTech Talk will take place at DEIB Conference Room "Emilio Gatti".
The talk presents an overview of the 5G Radio Access Network (NG-RAN) architecture and key protocols as specified by 3GPP and released in December 2018. We will present the overall architecture, migration path options, 5G base station architecture, and key protocol components.
NG-RAN builds on the success of LTE while introducing new key concepts, in terms of both overall architecture and protocols. 3GPP has specified interfaces and protocols in such a way as to facilitate the migration and evolution of 4G LTE cellular networks to 5G NR in a cost-efficient way, while also helping the uptake of NR and 5GC (the 5G Core network) to deliver new types of services.
Additional upcoming enhancements to the standards will address requirements from industries beyond mobile broadband, such as automated driving, industry automation, e-health services, etc. The 5G platform aims to deliver the foundation for the next decade in the digital age.
Registration: http://tinyurl.com/commtechpolimi
CommTech Talks @ POLIMI are a series of seminars and panels organized weekly by the study program in Telecommunications Engineering and the master of science track in Internet Engineering of Politecnico di Milano for stimulating the networking between students and people from industry and research.