CommTech Talk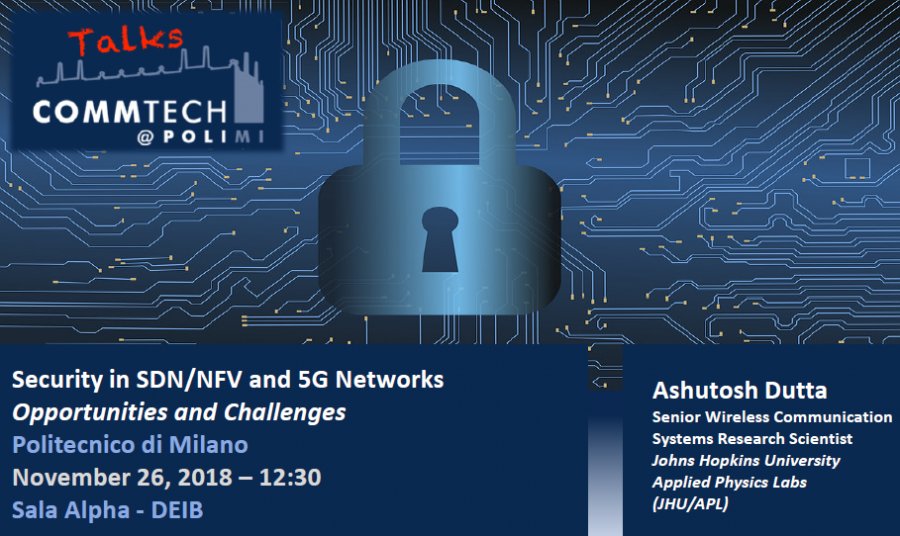 Security in SDN/NFV and 5G Networks Opportunities and Challenges
Ashutosh Dutta

Senior Wireless Communication Systems Research Scientist Johns Hopkins University Applied Physics Labs

DEIB - Alpha Room (building 24)

November 26th, 2018
12.30 pm
Contacts
:
Stefano Bregni

Guido Maier
Research Line:

Networking
Sommario
On
November 26th, 2018
at
12.30 pm
, a new
CommTech Talk
will take place at
DEIB Alpha Room
.
Software Defined Networking (SDN) and Network Function Virtualization (NFV) are the key pillars of future networks, in particular 5G. Telecom operators and service providers can leverage SDN/NFV to provide flexible and cost-effective services without compromising the end user quality of service (QoS).
NFV and SDN open up the door for flexible networks and rapid service creation, but also introduce new challenges. With the proliferation of 4G/5G networks, operators have started the trial deployment of NFV. However, very little attention has been given so far to the security aspects of virtualization.
In this talk, I will address the evolution of cellular technologies, focusing on security challenges introduced by 5G such as NFV, network slicing, cloud RAN, and SDN. I will highlight some ongoing activities in Standard Bodies and a few use case scenarios.
Ashutosh Dutta is Senior Wireless Communication Systems Research Scientist at Johns Hopkins University Applied Physics Labs, USA. He served as Principal Member of Technical Staff at AT&T Labs, USA, Director of Technology Security and Lead Member of Technical Staff at AT&T, CTO of Wireless at the Cybersecurity company NIKSUN, Inc., Senior Scientist in Telcordia Research, Director of Central Research Facility at Columbia University, adjunct faculty at NJIT, and Computer Engineer with TATA Motors. He is author of more than 90 conference and journal publications, three book chapters, and 30 patents. He is IEEE Communications Society Distinguished Lecturer for 2017-2018, and General Co-Chair for the premier IEEE 5G World Forum.
Registration
:
http://tinyurl.com/commtechpolimi
.

CommTech Talks @ POLIMI
are a series of seminars and panels organized weekly by the study program in Telecommunications Engineering and the master of science track in Internet Engineering of Politecnico di Milano for stimulating the networking between students and people from industry and research.