CommTech Talks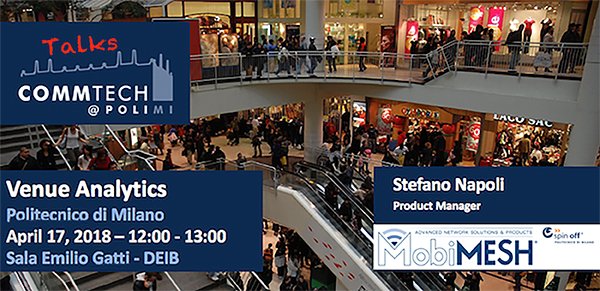 Venue analytics

Stefano Napoli
MobiMESH

DEIB - Conference Room "Emilio Gatti"
April 17th, 2018
12.00 pm


Sommario
On April 17th, 2018 at 12.00 pm, a new CommTech Talk will take place at DEIB Conference Room "Emilio Gatti".

Physical venues such as shops and malls, but also like airports and hospitals, know little information about their users' behaviour, if compared to the knowledge gathered by digital platforms. Such a gap can be filled by acquiring data from several "sensors" (WiFi, BLE, video, cellular, etc) and combining them on a complex Big Data Analytics platform, to understand and analyze the physical world activity.
The Data Analytics business model fosters the creation of new services and infrastructures, which the end users can benefit for the final purpose of the venue, being it selling goods or enabling travels.
We will look behind the scenes of nowadays big data analytics approach, with some real life cases with particular interest.
Registration: http://tinyurl.com/commtechpolimi