CommTech Talks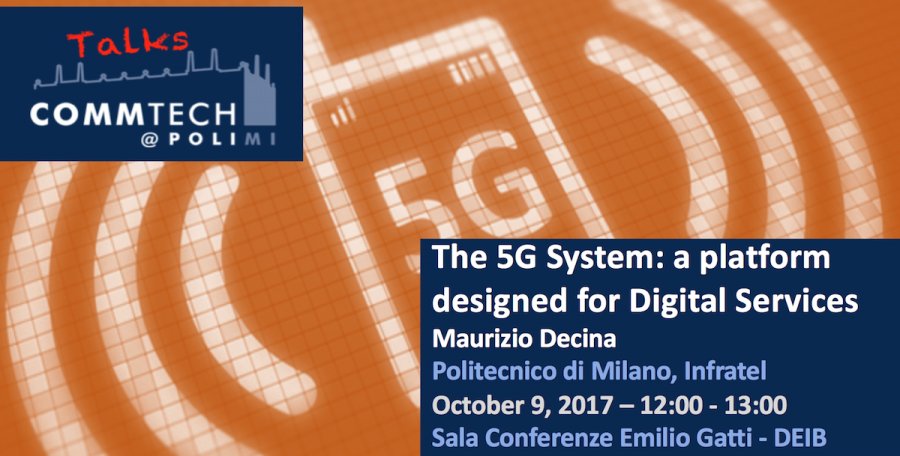 The 5G System: a platform designed for Digital Services

Maurizio Decina
Emeritus professor of Politecnico di Milano and President of Infratel

DEIB - Conference Room
October 9th, 2017
12.00 pm


Sommario
On October 9th, 2017 at 12.00 pm, a new CommTech Talk will take place at DEIB Conference Room "Emilio Gatti".
The industrial ecosystem of cellular mobile radio systems moved in very early towards 5G with the aim to realize a robust multiservice platform to enable spreading of Internet services to people and to smart objects. More than two years in advance to its birth (01:01:2020), 5G is concretely progressing via new IoT protocols and new radio interfaces. Most 5G services could be offered via the 4.5G systems, of the type: LTE Advanced, where the four major technology ingredients of the future 5G are experimented and massively introduced into the market: Small cells (Base Stations Virtualization), Network Function Virtualization/Software Defined Networks, Multi-Access Edge Computing, Massive MIMO.
5G will differ from 4.5G for the New Radio interfaces and requirements, as well as, for the new coding, multiplexing and error correction techniques (Filtered OFDM, Sparse Code Multiple Access, Polar Codes, etc.). The major objective of the 5G system is to support the development model for the digital services offered by the Telco operators in partnership with utilities, public administrations, enterprises and the Over The Top (OTT).